IRS number filed a lawsuit against you? That's a scam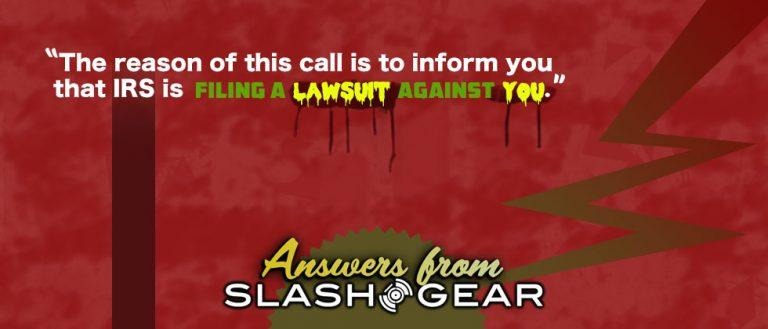 Phone calls are being made this week – and for the next several week – by robots pretending to be the IRS. This is part of a scam that's been going on for at least a couple of years in this exact format. The phone call will come to any number – I just got a call on my mobile phone on an unlisted number, mind you – and it'll sound something like this: "Hello, we have been trying to reach you. This call is officially a final notice from the IRS, Internal Revenue Service."
"The reason of this call is to inform you that IRS is filing a lawsuit against you," the call will say. Good god, your heart will likely say, you should be frightened out of your pants! In reality, there is ABSOLUTELY NO REASON TO FREAK OUT ABOUT THIS CALL. It is not real – and most certainly is not the IRS, nor any other official government group.
The IRS does not contact citizens by phone – they contact people with paper mail. That's the way the IRS works – they work with the Postal Service to deliver letters. That's what they trust, that's what they use. Another service they do NOT use to contact citizens of the United States is email. I will never ever trust an email from any source suggesting they are the IRS – that does not happen.
Things the IRS will never do:• IRS wont: Contact taxpayers by email.• IRS wont: Contact taxpayers by phone.• IRS wont: Ask a taxpayer to wire money.• IRS wont: Ask a taxpayer to send a prepaid money card.• IRS wont: Ask a taxpayer to share credit card info on the phone.• IRS wont: Demand payment on the spot.• IRS wont: Threaten anyone with arrest.• IRS wont: Threaten anyone with deportation.• IRS wont: Threaten anyone with loss of driver's license.
To be clear, the IRS does have a phone number – several of them, in fact – and they can be spoken to on the phone. Users can call 800-829-1040 or go to irs.gov to make absolute sure the phone call they've received is not real. It most certainly wont be, but for that extra bit of assurance, there's that.
Anyone that feels that they've already been the victim of one of these scams, there's help through the FTC. Head to the FTC's Tax Identity Theft Awareness website to address the problem as directly as possible.