Iron Man's Hulkbuster comes to Grand Theft Auto 5 via mod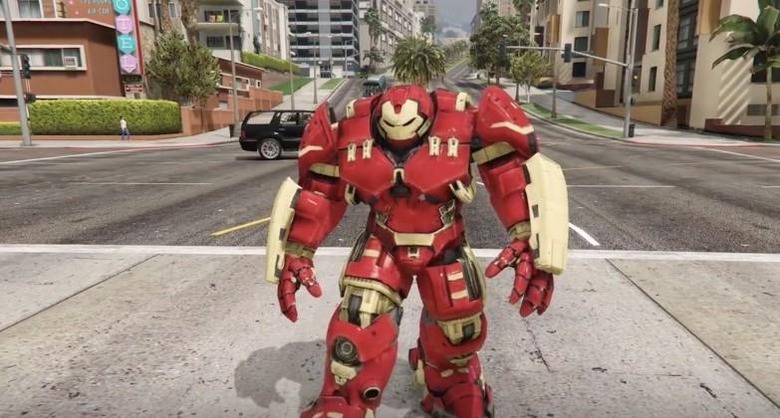 Well, it certainly didn't take long for Marvel superhero Iron Man to upgrade gear, at least in the world of Grand Theft Auto V. It was only about a week ago that we wrote about Brazilian coder JulioNB's mod for playing as Iron Man in GTA5 for PC, and now he's back with the Hulkbuster armor, as seen in the latest Avengers: Age of Ultron movie. JulioNIB previously said he had other mods in the works, and with Hulkbuster now revealed, it can mean only one thing: a Hulk mod can't be far behind.
You can see how the huge suit of armor performs in GTA5's world of San Andreas in the video below. It seems to live up to expectations, with the ability to fly, lift and throw cars, and, of course, shoot missiles to create wonderful explosions.
If there's one negative aspect, it's got to be that the Hulkbuster's size doesn't seem to measure up, with the armor being barely taller than GTA's vehicles. But for those who are interested in playing with the mod on their PCs, installation instructions can be found on GTA X Scripting.
JulioNIB has commented that he's working on a Hulk mod, but at this point he really shouldn't stop until all the Avengers have been added to the game. The coder has been on the GTA modding scene for some time now, having created mods for Spider-Man and Hulk in GTA4. He's even got a Patreon page where players can donate to his work and see what other games he's working on.
VIA Eurogamer