Iron Man invades not your screen but your GTA V game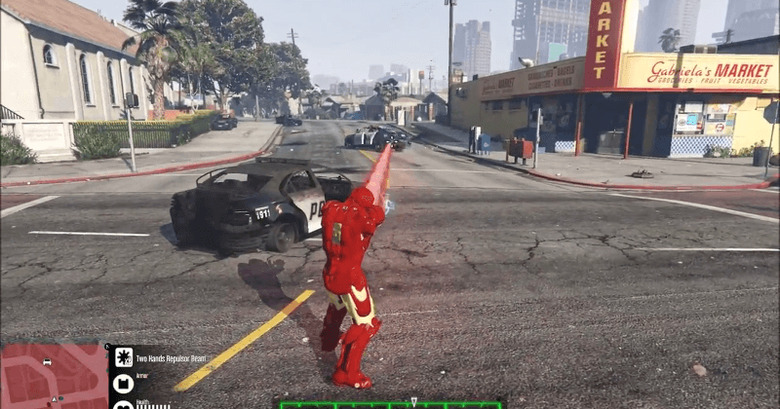 GTA V just got a bit more Marvelous, so to speak. And at least unofficially. That is, only if you have a PC copy of the game. Carrying on the venerable tradition of modifying, or modding, just PC games, Brazilian coder extraordinaire JulioNB included something, or someone, in the latest installment of Grand Theft Auto that you wouldn't normally find on the streets. Not unless you're in Marvel's world, of course. Yes, the Iron Man has come to San Andreas and, unlike (or very much like), the comic book superhero, he's in a very destructive mood.
Iron Man in GTA V can do pretty much everything that he can on the big screen. He can jump, fly, and exhibit extraordinary strength. But this is GTA V so naturally any such advantage is put to one purpose and one purpose alone. Well actually two: destruction and mayhem, with utter disregard for the law. This Iron Man's suit doesn't open up, so Robert Downey, Jr. can at least feign innocence.
The quality of this mod speaks to JulioNB's skill at the craft. That said, it isn't his first rodeo. In fact, his inclination towards superheroes goes back to GTA IV, where he was also responsible for mods that put Spider-Man and the Hulk in the game world as well. Definitely a recipe for disaster.
And while that may be it as far as Marvel's iconic superhero goes, JulioNB is far from done. The modder has setup a Patreon page asking for funds to fuel his creativity and his insanity. Up next is, unsurprisingly, the Hulk again. Wonder if he'll ever do a Hulkbuster. In the meantime, enjoy this clip of Iron Man, not Hulk, ravaging the streets, and even the skies, of San Andreas.
VIA: Eurogamer