Iron Man 3 game trailer shows off in-app purchases

The release date for the official Iron Man 3 game is quickly approaching. The game will launch next week on April 25, but in the meantime, Gameloft has been teasing us with various teaser trailers of the game, and today they released another one that shows off some of the various Iron Man suits you can strap on, as well as other in-app purchases.
We've already seen a gameplay trailer for Iron Man 3 last month, and this new one doesn't seem to be all that different. However, we're teased with a short glimpse of what to expect with in-app purchases, as well as very brief looks into some new gameplay that we didn't see with last month's trailer.
As for the different suits, you can get them in different colors, and some of the more high-end ones even come with machine guns attached, which is pretty nifty. You can also spend money to upgrade your armor and weapon power, as well as your "HP," which calculates how much damage you put on your enemies with your various weapons and moves.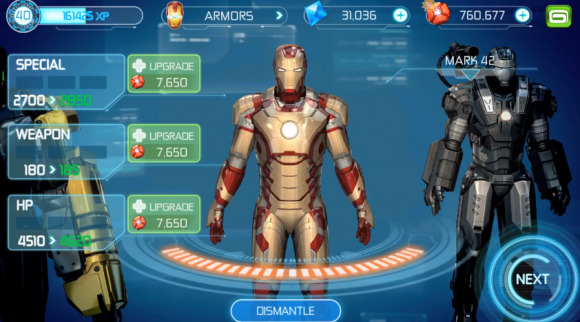 The trailer tells us that we'll have access to 18 different Iron Man suits, so it seems like there will be some lasting appeal to this game — enough to possibly hold us until Iron Man 4 comes out (there's gotta be another one, right?). The game will play a lot like Temple Run, except you'll be flying with guns blazing. The game is set for both iOS and Android on April 25, so mark your calendars.
[via Android Community]