iRobot Looj 330 and Mirra 530 hands-on: gutter and pool cleaning made fun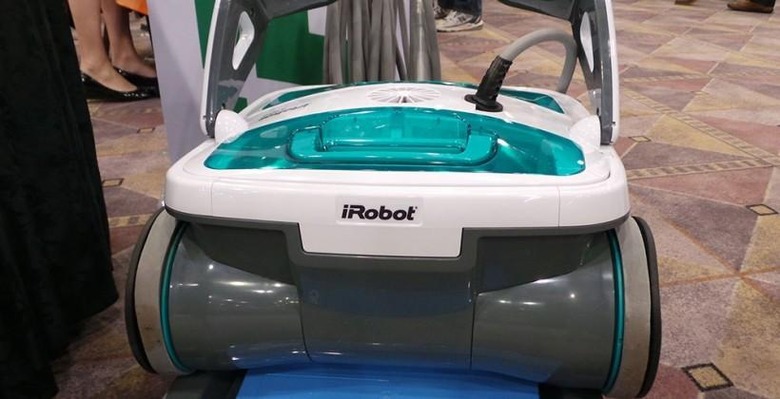 Before we saw the iRobot Mirra 530 pool-cleaning robot and the Looj 330 gutter-cleaning robot here in person at CES 2013, we never imagined we'd be considering work with either area of dirtiness to be an entertaining prospect. In fact now with these two robotic masterpieces ready for iRobot-level cleaning in the near future, it may be time to purchase a home with a pool and gutters just to make use of these fabulous home-friendly amalgamations of technical excellence.
This week at CES 2013 we've gotten the opportunity to have a peek at both of iRobot's newest creations, starting with the Looj 330 gutter-cleaning robot. This machine and the pool cleaning robot are made by the same folks who brought you the ever-lovable Roomba (and DJ Roomba, mind you), so you know you'll be in for a treat. The Looj 330 gutter-cleaning robot is ready to enter brand new markets (outside the USA for the first time, a first for an outdoor robot from iRobot) with a selection of improved gutter-sweeping features.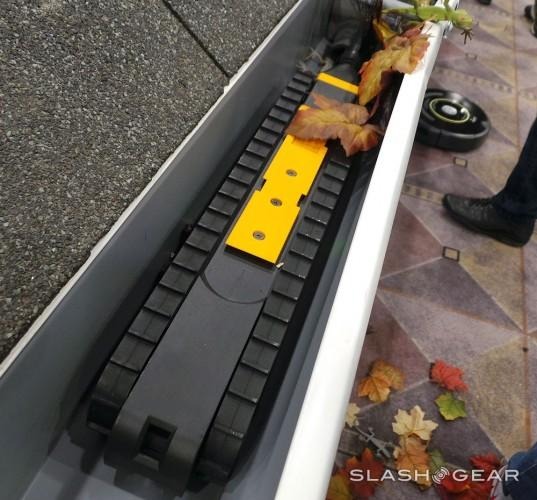 This robot is able to work with its handle attached or remotely with the handle acting as wireless control over the beast from afar. Have a look at the video above to get an idea of what fun this otherwise arduous task could be for you rather soon. Scout out our original details post on both the gutter cleaning robot and the pool robot to see additional bits of details.
The Mirra 530 pool-cleaning robot is slightly more high-powered than the gutter cleaner, using iAdapt Nautiq technology to find the size of your pool on its own, automatically adjusting its cleaning method to most effectively take on the task. This machine cleans not only debris from your pool that you'd otherwise have to fish out with a net like leaves, dirt clumps, and hair, but smaller and even nearly invisible items as well – 70 gallons of water per minute filtering pollen, algae, and bacteria as small as two microns.
Take heed and see these machines above and below in the hands-on video and photos we've got prepped for you, and make sure to check our CES 2013 portal too for sweet up to the minute and hands-on action all week!