iriver Story ebook reader presales start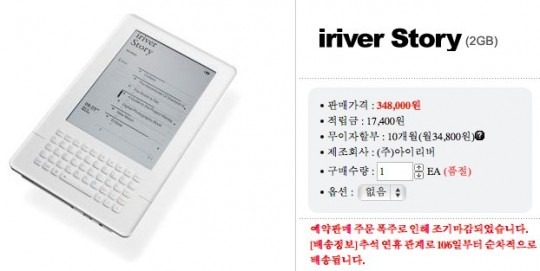 iriver's
has
, priced at the equivalent of around $281.  Set to begin shipping on October 6th, the Story has a 6-inch E-Ink display, QWERTY keyboard and an SD card slot; iriver supply a 2GB card with the device, along with a case and two free ebook downloads.
Up to 32GB memory cards are supported, which means there should be no shortage of space for your ebooks, while the battery is tipped for around 9,000 page turns.  While the preorder page is for Korea, the Story's menus are available in 15 different languages, suggesting that
of broader availability might pan out.
In the face of IREX's
, however, or Sony's
, the iriver Story's lack of a touchscreen or integrated 3G/WiFi look like serious shortcomings.  The company
that a WiFi version is planned, while they're looking for a suitable 3G WWAN module for a further model.
[
MobileRead]