iriver Story caught in wild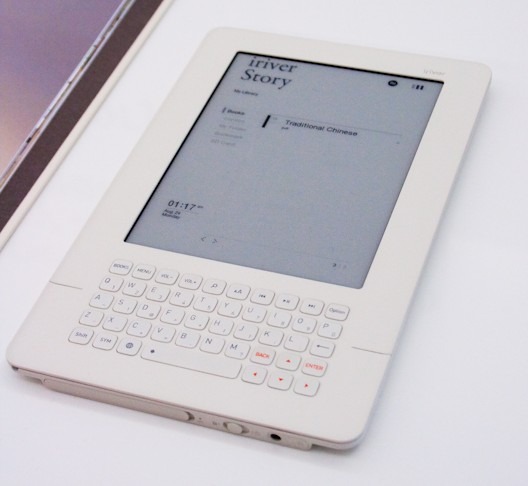 The few live images of iriver's new ebook reader, the sensibly-named Story, whet our appetite; now German site Heise have had the chance to go hands-on with the Kindle-esque device.  Unfortunately they've also found that, right now, a WiFi-equipped model is merely "planned", while a 3G version only "conceivable" if iriver can find a suitable mobile module.
Connectivity qualms aside, the Story is a reasonably handsome – if not exactly boat-rocking – device, with a full QWERTY keyboard, 0.6W mono speaker and 3.5mm headphone jack.  The 1,800mAh battery is good for up to 7,000 page-turns or 20 hours of audio playback, and the whole thing measures 127 x 203.5 x 9.4 mm and weighs 284g (a little narrower, little thicker and a little lighter than the Kindle 2).
According to Heise, iriver are not only targeting readers but comic and manga lovers, together with education markets, and are currently in discussions with suitable content partners.  Pricing should be between €250-300 ($360-432) when it arrives in October or November.
[via Engadget]