Iriver P35 Touchscreen PMP Hitting US In Fall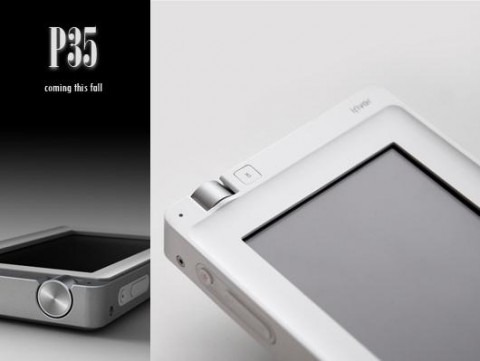 iriver US have confirmed that the P35 touchscreen PMP is set to land on American shores this fall.  Already on sale in Korea, complete with an integrated DMB digital TV tuner that's unlikely to make it to the US model, the P35 has a 4.3-inch WQVGA display and 8GB or 16GB of flash storage.
There's also a microSD/SDHC slot, content with cards up to 16GB, and a SPINN control wheel on the side.  The whole thing measures 128.3 x 79.7 x 17.8mm and weighs 220g; the internal battery is good for 16hrs of audio or 8hrs of video playback.
What's unclear is whether the US model will come with WiFi (and the accompanying web-browser).  In Korea, three versions of the P35 are available, from a basic PMP through to a WiFi-enabled version and, finally, the DMB model.  All can play back MP3, WMA, WAV, OGG, APE and FLAC audio files and MPEG4, Xvid and WMV7/8/9 video files.  No word on pricing for the US; the range starts at the equivalent of around $286 in Korea.
[via DAPreview]