iRiver P35 and P7 touchscreen PMPs released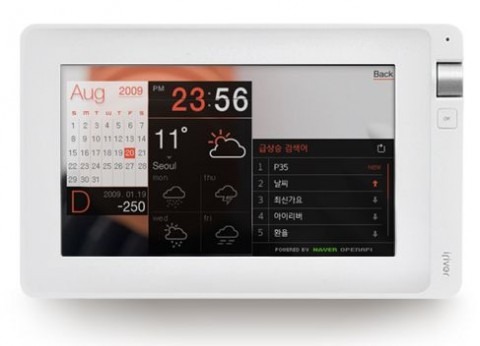 iRiver have officially released the P35 PMP, complete with a 4.3-inch WQVGA display, optional integrated WiFi b/g, 16hrs audio playback and 8hrs video playback.  Three versions will be on offer, ranging from the Basic (with no DMB or WiFi, and 8GB of storage) through the DMB (which lacks WiFi but has DMB and 16GB) and finally the WiFi (which has wireless and DMB together with 16GB).  iRiver have also also officially released the P7 PMP, which we caught up with at CES 2009.
The P35 supports a raft of formats, including MPEG4, Xvid and WMV in video (up to 8Mbps for MPEG1/2, and up to 4Mbps for MPEG4/Xvid) and MP3, WAV, WMA, OGG, APE and FLAC in audio.  The WiFi version has a full browser, all have support for the open-API UCI widget platform.  The display is 4.3-inches at 480 x 272 resolution; it's priced from $286 in Korea.
As for the P7, that will be priced at around $142 for the 8GB version and $171 for the 16GB model.  As with the P35, no word on a US or European release for the 4.3-inch touchscreen PMP as yet, which has a microSD slot and iRiver's new "magazine style" GUI.
[via Portable Alliance]