iriver NV Classic PMP with satnav and DMB-T TV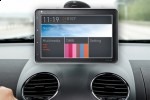 iriver have announced a new PMP, the NV Classic, which not only handles your multimedia playback but also includes a DMB digital TV and radio tuner and GPS navigation.  The iriver NV Classic measures 181 x 120 x 21.5 mm and is fronted by a 7-inch WVGA 800 x 480 touchscreen and the company's "Magazine" UI.
The NV Classic's media player will happily churn through your MP3, WAV, OGG and WMA audio files and MPEG1/4, WMV9 and Xvid videos, together with displaying JPEG and BMP images.  Storage is via SDHC card, with iriver supplying two as standard: the first a 4GB card for your media, the second a mapping card for use with the NV Classic's PND functionality.  That seems a bit of an unnecessary fuss to us; we'd have preferred some internal memory for at least the map data.
Still, you also get a DMB tuner and on-screen control of channel presets for TV and radio, and there are twin 1.5W speakers and a car-kit.  It'll apparently be the equivalent of $264 when it lands in Korea; no word on availability outside of there as yet.
[via Generation MP3]