iRig MIDI interface for iPad and iPhone now shipping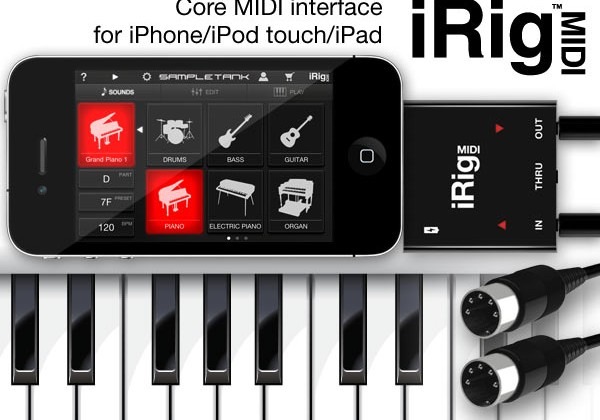 So you say you'd like to make some music with your brand new iPhone 4S or your relatively new iPad 2, yes? What better way then, than with the iRig MIDI, a lovely little Core MIDI interface for all your iDevices including iPad, iPhone, and iPod Touch. This device, as you can see, has MIDI in, out, and through, 2 LEDs to show you any activity going on through those ports, and a microUSB port so that you can charge your iOS device while you're jamming on some tunes. And what's more? You'll get some apps that are optimized to work with the device for free!
This device may confuse the heck out of you if you've never played an electric instrument before – what the heck are those plugs, you might be asking. This device connects your instrument (a keyboard, a guitar or bass, whatever you like) or a microphone if you're one of those singing types, to your iOS device, where from there you can amplify, distort, and enhance the audio to your delight! That's what the apps are for, too, you'll get SampleTank and iRig MIDI recorder. The first of these apps is a pro-quality sample based sound and groove interface, while the second is, well, a MIDI recorder and player. Imagine that.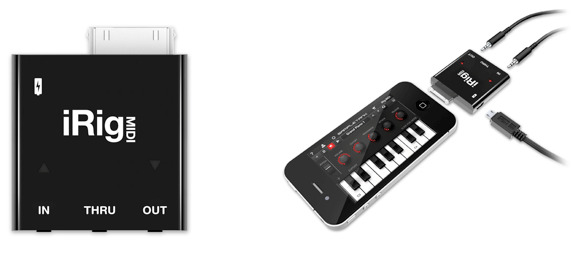 You also get included 2 x 5.2' (1.6 m) MIDI 5-pin DIN cables for plugging in all your instruments. Got a drum pad? Plug it in. Got a synthesizer? Plug it in. SampleTank is an app that you'll be able to buy separately from this device, but buy this device and you'll get it for free AND you'll get 48 exclusive SampleTank sounds for free by registering. On the other hand, if you'd like to use your own apps, you'll be glad to know that you'll have over a hundred choices on the iTunes Appstore Check out a FULL LIST of these compatible apps at ikmultimedia.com.
This whole setup is shipping NOW from select IK Multimedia music and electronic retailers across the globe as well as in the IK online store. Pick it up for $69.99/€54.99 (excl. tax) right the heck now!