iRig Mic HD 2 review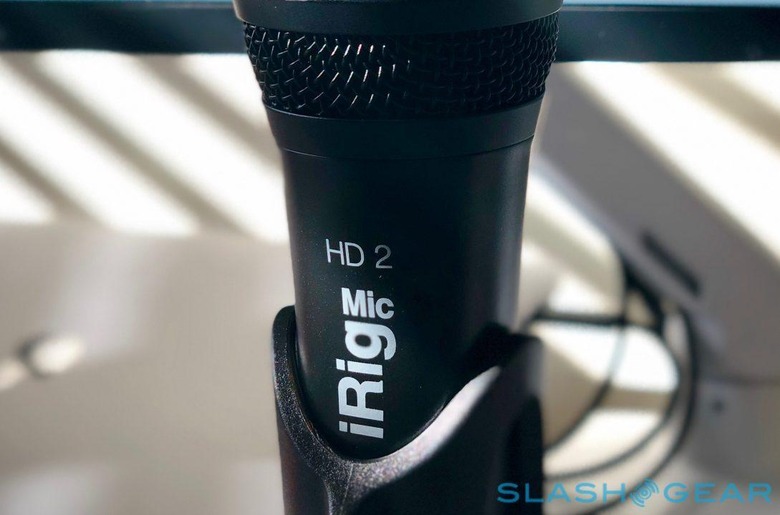 There are likely tons of reasons you'd want a dedicated microphone. If you're podcasting or producing voice-overs for YouTube videos, they're a must have item. But there are still other reasons to get one, and the IK Multimedia iRig Mic HD 2 might just be the best of the bunch. While it has its limitations, it builds atop the company's already solid reputation, and does so with aplomb.
Hardware
iRig made a point to craft a professional-grade mic this time around. While its predecessor was plastic, the HD 2 has a metal body. It inspires even more confidence in-hand than the original, and keeps its classic microphone form-factor.
We're now moving into a world of port ubiquity, so the HD 2's headphone jack may come as a welcome sign to audiophiles, and volume control is a handy addition as well. It's analog, though, so if you've already migrated to Lightning or USB-C, you're out of luck. Wirelessly connecting to your iPhone or iPad may be the best bet, here, but it's unavailable on the iRig Mic HD 2 for a number of (good) reasons.
iRig also thought to include a stand alongside its mic holster this year, and it's a very solid – if basic – option. The all metal design helps keep the mic steady out of the box, which helps get you up and running straight away. You'll also get two cables (Lighting to micro-USB and USB-A to micro-USB) and a carrying pouch.
Under the hood, it's impressive. From iRig:
iRig Mic HD 2 delivers incredible performance giving you the ability to record your instruments or vocal performances with 24-bit resolution and sample rates up to 96kHz. It utilizes a high-quality, gold-sputtered electret condenser capsule that ensures exceptional transient and frequency response (20 Hz – 20 kHz, -3 dB) along with enhanced durability, and the integrated low-noise preamp lets you dial in just the right amount of gain for the optimum signal level.

Able to withstand a maximum sound pressure of 125dB, iRig Mic HD 2 will stand up to recording even very loud sources and the cardioid pickup pattern will help reject unwanted sounds from back side of the microphone.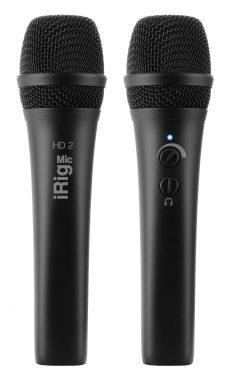 In-use
While using micro-USB for connectivity is likely a legacy holdover from the original, it feels dated. Unfortunately, the only other realistic option would have been USB-C, which needs a bit of time to mature before accessory makers accept it widely. You can purchase an adapter for use with the Mic HD 2 if USB-C is your jam.
As-is, connecting the iRig Mic HD 2 to an iPhone or iPad is a single-cable connection, and there's no fussing with hardware. You just plug it in and go.
You can choose the amount of gain, which is like saying you can choose how sensitive the mic will be. If you're in a quiet environment and plan to do some voice-over work, more gain might be good. If you're in an area with a bit of background noise, gain will pick that up.
That said, iRig has done a good job of making sure more gain doesn't equal picking up noise you didn't hear. Some do, and it's frustrating. The iRig Mic HD 2 is sitting on my desk a few feet from me, and picks up my voice just fine.
The headphone port can also be used to re-route to a recorder, mixer or PA system.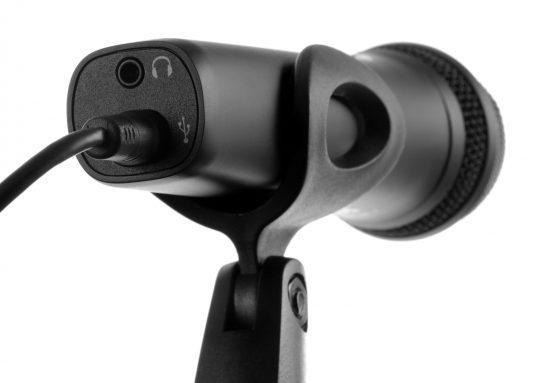 Verdict
I'd like the IK Multimedia iRig Mic HD 2 a lot more if it were wireless. Unfortunately, that wouldn't meet the demands of its target audience, which is where we distill the verdict to.
This thing is aimed at pros and pro-sumers. There also needs to be overlap with those who rely on mobile for their recording needs. That's not a huge market, but this is probably the best kit available for those in that Venn diagram overlap.
I chime into the occasional podcast, and use an app called Just Press Record for dictated notes as it does a great job of transcribing. When I do interviews for articles, I tend to use a dedicated microphone. The iRig Mic HD 2 has outperformed expectations on all fronts. If you really need to get serious about recording, iRig has an entire suite of mobile apps that undoubtedly meet your needs – but it's stellar as a straightforward tool, too.
If I have one realistic gripe, it's that iRig doesn't provide a hard case for the Mic HD 2. Its bag fits the mic, stand and wires easily, but I'd much rather see this arrive with a small hard case. Forget the presentation packaging and give me a mini case, iRig. But it's hard not to love the iRig Mic HD 2. It's better than the original, which was already really good.
IK Multimedia's iRig Mic HD 2 is on sale directly from iRig for $129 if you're anxious.