iRig 2 mobile guitar interface connects guitar or bass to your iPhone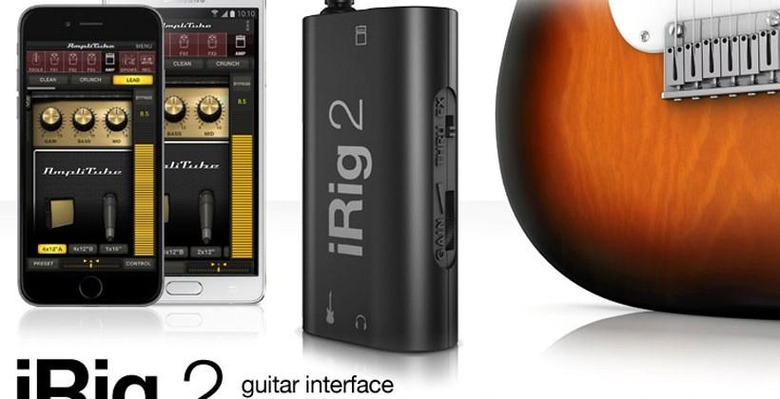 Way back in 2010 was the first time that we saw the iRig guitar interface for the iPhone. The device put a guitar amplifier into the iPhone and allowed musicians to play their electric guitar or bass using nothing more than the iRig setup and their instrument. At CES 2015 IKMultimedia, the company behind the iRig, has rolled out a new version of the device called the iRig 2.
iRig 2 builds on the design that made the original a popular accessory for musicians and brings new features to the mix. The new features include a 1/4-inch amplifier output jack and compatibility with Android smartphones.
The iRig 2 will work on the iPhone, iPad, iPod touch, Mac, or Android devices. In addition to the 1/4-inch amplifier output, the iRig 2 also has the 1/8-inch headphone output and it supports AmpliTube. AmpliTube is the guitar and bass multi-effects processor for iPhone and iPad.
A removable support is included with the iRig 2 that allows it to be mounted to a mic or music stand during a performance. The 1/4-inch instrument input works with any bass, guitar, or line level instrument. Any 1/8-inch input device that supports the CTIA/AHJ wiring standard works with iRig 2. iRig 2 will be available in Q1 2015 for $39.99.