iPod touch controlled DIY Airsoft Target Range: Video Demo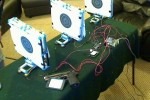 We're seeing more and more DIY electronics projects based on Arduino and ioBridge microprocessor modules here on SlashGear, as people discover how straightforward it can be to put together ostensibly complex prototypes.  For instance, how about an affordable moving airsoft target range, for some indoor shooting practise: Arduino and ioBridge based, it's all controlled through a custom iPod touch web interface, so that nobody has to draw the short-straw and enter the line of fire to get things going.
Check out the demo video after the cut
The ioBridge acts as the gateway between the targets and the iPod touch, while the Arduinos control the three independent rotating targets.  The actual physical construction is from Construx snap-together building components, making prototyping simple, into which the three micro-servos (more usually found in remote-control planes and other toys) sit.
Room has been left for expansion, so the whole setup could be enlarged for multiple shooters or different shape or size targets.  Alternatively there's talk of making an archery version.  Check it all out in action in the video below.
[via nowhereelse.fr]