iPod nano refreshed with Lightning connector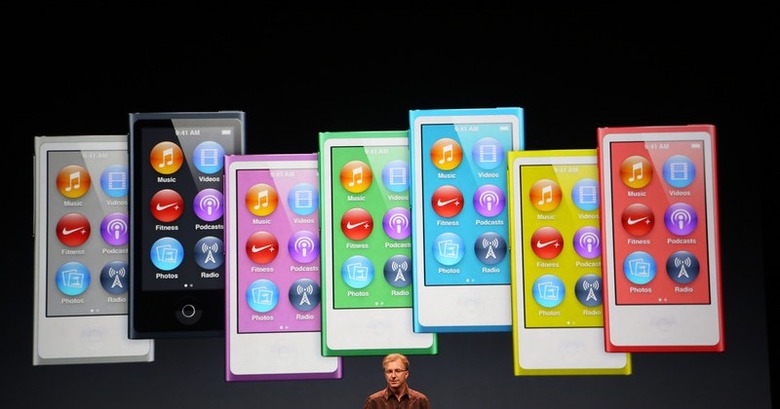 Amid the furious excitement that surrounded the iPhone 5 this week, Apple also introduced a brand new iPod nano. This refreshed device has an entirely new form factor looking more like an iPhone than it has an original iPod in previous iterations. Here you've got the "thinnest iPod nano we've ever created", Apple says, with a 38% thinner body at 5.4mm. This device has a giant hardware button on the left that's able to play, pause, forward, back, and adjust volume, and comes with a home button just like the iPhone.
The display is 2.5-inches large on this device and is a touchscreen as well. It comes in 7 different colors and appears very much to be working with a user interface all its own – iOS, sort of, but a bit more tuned to this size. This device comes with an FM tuner integrated as well as "live pause" so you can listen to your favorite show over and over again.
Video is also coming back to the iPod nano with "widescreen video" ready for action right out of the box. This means that videos you purchase from the iTunes Store will be using "every single pixel". This device comes with the "The longest battery life we've ever had in a nano" and works with the new Lightning connector introduced this week as well – and Bluetooth to boot!
This news came aside numbers that showed the iPod lineup to have sold 350 million units since the beginning, with the entire iPod lineup still being a set of devices that Apple loves and cherishes – so to speak. Stay tuned to our Apple portal for more information on the devices and services we've seen introduced at the big Apple event this week!