iPod nano 5G to include wider screen, camera; six third-gen iPhone models planned?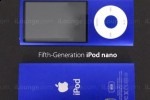 This, according to iLounge's trusted tipster, is pretty much what the fifth-generation iPod nano will look like.  No touchscreen interface, but the display does get an aspect change; there's also said to be a camera on the back and a smaller control wheel.More details, plus next-gen iPhone leaks, after the cut
The screen gets wider (when held horizontally) to 1.5:1 aspect, from the current fourth-gen nano's 1.33:1, which should reduce black-bars when watching widescreen content.  As for the scroll-wheel, that's shifted down the body to accommodate the bigger display, and the whole thing has a smaller diameter and more compact center-button.
On the back, meanwhile, there's a camera of unspecified resolution; it's likely to be covered up when the iPod nano is held in portrait orientation, but flip it to landscape and hold the PMP as you would a standard camera and it'll be more useful.  According to their source, the fifth-gen iPod nano will debut sometime between July and September (likely later rather than sooner) at the same time as a refreshed iPod touch.
As for the iPhone, iLounge have been informed that there'll be no less than six versions of the third-gen model, three models each with two storage options.  As well as a standard 3G (e.g. 3.5G HSDPA) there'll be an "enhanced 3G" version (likely faster HSPA), plus a mainland China version that looks like the existing phone and comes in scratch-resistant matte plastic.  The models will be tailored to different networks in different locations, so consumers won't have a choice between, say, the two 3G handsets.