Last night a crew of Huawei PR handed out packages at an Apple Store to consumers waiting to buy the new iPhone Xs. These packages contained an accessory, for free, from Huawei. The trolling in this situation didn't really end up being at the expense of the consumers so much as it was direct in the face of Apple and their new smartphone collection.
Packages handed out by Huawei PR at the Apple Store on Orchard Road, Singapore. The new iPhone Xs and iPhone Xs Max were made available in-store starting on Friday, September 21st in the country of Singapore and in surrounding regions. This was also the same availability date as the United States, and it was the first day pre-orders were shipping to consumers in many countries around the world.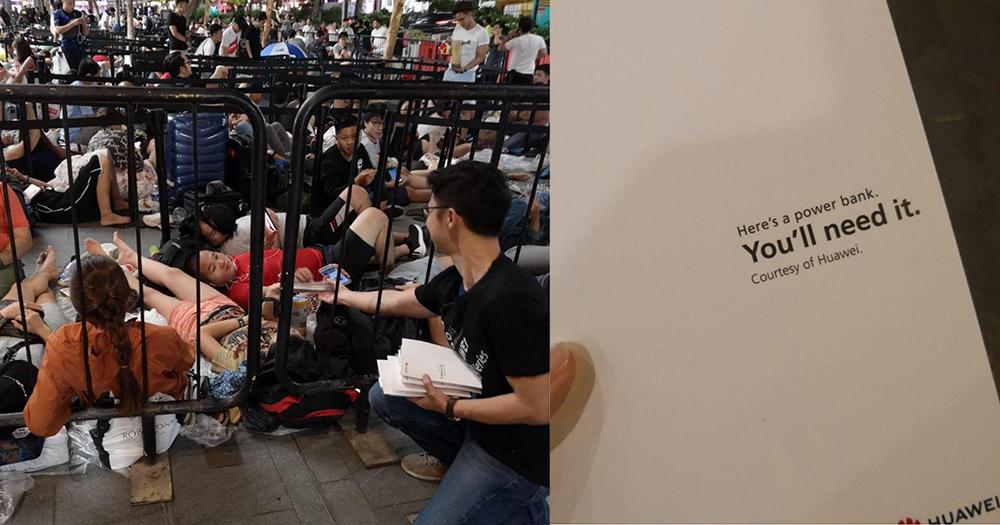 Consumers waiting in line on Orchard Road were handed packages by Huawei with a power pack inside. That is, a big battery with a USB port on the side that can send power to an iPhone with the proper USB cord. On the package, Huawei included a semi-snarky message for soon-to-be iPhone Xs and iPhone Xs Max owners.
"Here's a power bank.
You'll need it.
Courtesy of Huawei."
This marketing stunt was done with little expense to Huawei – and their return on investment is sure to be more than worth the effort. Each Huawei Power Bank given to Apple Fans was a massive 10,000 HUAWEI SuperCharge. That's an $80 USD investment, right there. According to Mothership, once Huawei was done giving out packages, they had people following them back to their home base in an attempt to get more. Everyone wants power, no matter how big a fan they might be of Huawei's opposition.
Huawei also has an event coming up in London on the 16th of October, 2018. After the iPhone Xs and XR were first revealed, Huawei sent out a message that read "THANK YOU for letting us be the real hero of the year. See you in London 16.10.18." That'll be the Huawei Mate 20, and it'll be a doozy.