iPhone The Q4 Smartphone Champ Says Kantar As Android Deserters Grow

Apple's iOS clung to the top-spot for smartphone platform share in the US in Q4 2012, new research suggests, maintaining more than half of the market, though the gap between AT&T and Verizon sales has narrowed. iPhones made up 51.2-percent of the US smartphone sales, Kantar World Panel claims, while Android dropped a little to 44.2-percent, a fall of just 0.6-percent year-on-year.
In comparison, Apple saw growth during the period, rising from 44.9-percent of the same market back in 2011. Windows Phone grew slightly, from 2.2-percent to 2.6-percent, but according to the research firm's figures, RIM was the biggest marketshare loser, its BlackBerry platform dwindling from 6.1-percent in 2011, to just 1.1-percent in 2012.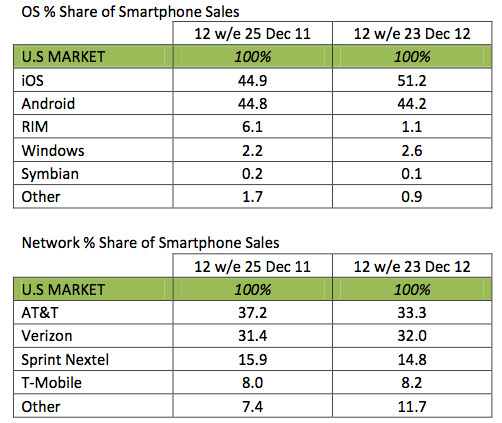 As for share by carrier, AT&T maintains the top-spot for smartphone sales, though only just, with 33.3-percent of the market. Verizon has closed the gap, however, being just 1.3 points behind. Together, the two carriers represent the lion's share of smartphone sales.
Interestingly, the raw figures don't quite tell the whole story. According to Kantar, more than a third of new iOS users were transitioning from another smartphone platform, and Android deserters represent a greater chunk of those moving across. "19-percent of iOS sales over the last year were derived from Android users, compared to 9-percent in 2011" analyst Mary-Ann Parlato said of the stats, with the trend most evident among Verizon subscribers, where 30-percent of iOS sales were of former Android users.