iPhone sales revenue Q1 2018: iPhone X premium pricing in effect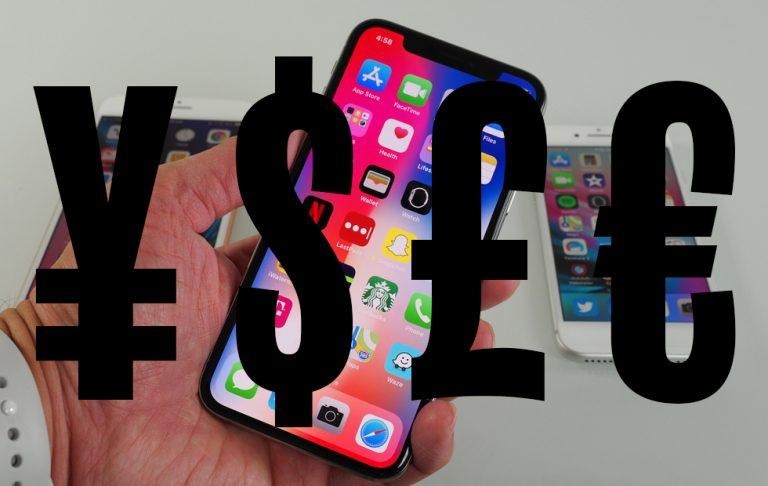 Apple released Q1 2018 earnings this afternoon with iPhone revenue up, but unit sales down, year over year. Because units went down but revenue went up, we can assume only one thing: People are spending more cash on their iPhone. That very likely means that the iPhone X took a big chunk of sales this quarter, and also likely means that iPhone sales tended to trend higher – the larger of the two standard iPhone 8 models, and iPhone X.
This was the quarter which contained the first wave of iPhone X sales, which started shipping on November 3, 2017. This quarter contained the three months ending in January, traditionally the most massive quarter of the year. Apple's Q1 2018 contains the last three months of 2017, while Q1 of 2017 contains the last three months of 2016.
Q1 of 2017 brought in unit sales of 78.290-million units for iPhone, and a revenue of $54.378-billion in revenue. This most recent quarter Apple sold 77.316-million units and brought in a revenue of $61.576-billion. That's a growth of 13% in revenue, and a decline in unit sales by one percent.
That'll do well to cut those worried about iPhone sales this quarter directly in the face – or at least it should. We won't know the exact number of each individual model of iPhone unless Apple reveals those numbers in their earnings call – and we'll update this article if they do so. Chances are they won't, though, so don't hold your breath.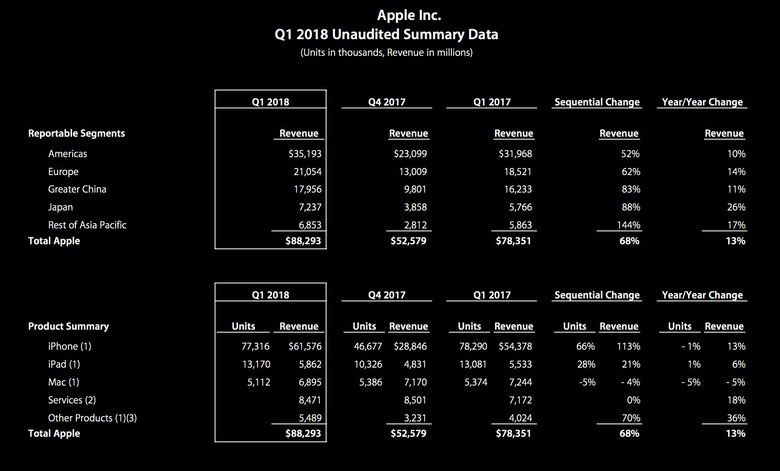 iPad unit sales went up by 1% and revenue grew 6% year-over-year, while Mac unit sales and revenue both went down by 5%. Both the iPad and Mac sales percentage change here mean Apple is essentially right on target with their userbase. People are replacing the devices they had in the past, new users are buying at a good rate. We'll see that change this year as Apple reveals a new set of iPad devices with new abilities.
Services revenue went up by 18%, though that contained a "favorable one-time adjustment of $640 million due to a change in estimate based on the availability of additional supporting information," whatever THAT means. Services is a category which includes "Digital Content and Services, AppleCare, Apple Pay, licensing, and other services."
Other Products includes Apple TV, Apple Watch, Beats products, iPod touch, and Apple-branded and third-party accessories. Other Products saw a 36% increase in revenue year-over-year, very possibly because people are finding new bluetooth headphones enticing now that their iPhone no longer has a headphone jack.