iPhone OS grabs US game market share from PSP & DS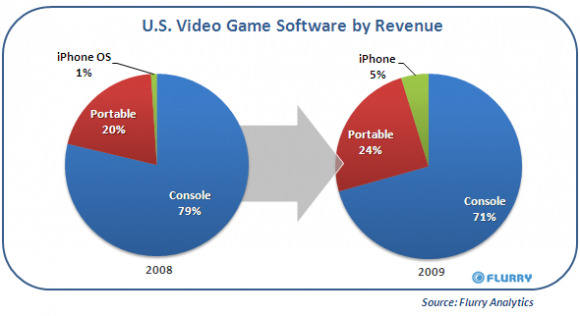 When is a games console not a games console?  When it's an iPhone or iPod touch, of course, and while Apple may only list gaming as a partial purpose of their devices, that hasn't stopped iPhone OS from picking up a growing chunk of the market.  Software analysts Flurry have stepped up with some new figures that suggest Apple's iPhone OS has seen its US video game software market share increase five-fold between 2008 and 2009.
In 2008, iPhone OS apparently comprised 1-percent of the video game market in the US, when judged by revenue; that rose to 5-percent in 2009.  It reflects a growing shift away from home console gaming to mobile gaming: console game software revenue fell eight points to 71-percent, while spending on portable games software rose four points to 24-percent.
As for the shift in portable games consoles, it was the PSP which saw the biggest decline in the same period.  iPhone OS-based game spending increased to take 19-percent of the US portable market, with the Nintendo DS dropping five points to 70-percent and the PSP almost halving to 11-percent.  Considering the relative prices of iPhone OS games compared to regular games, it's an even more impressive shift.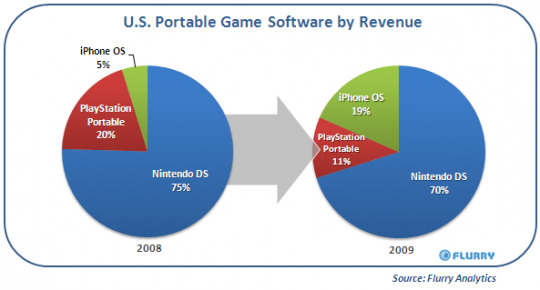 [via iPhoneBuzz]