iPhone MMS promised by Mobispine; will Apple allow it?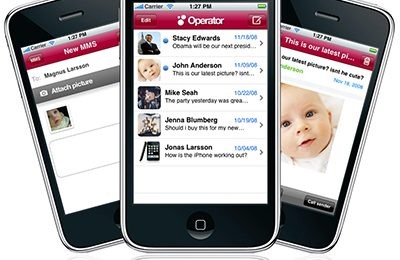 Whenever there's an iPhone update, the second question after "does it do copy & paste?" is inevitably "what about MMS?"  Apple have consistently shied away from multimedia messaging on their handset, strange given what a cash-cow it is to the mobile operators.  Now, developer Mobispine claims to be offering a whitelabel MMS app for iPhone operators all over the world.
The app, which would be customized to each carrier, will allow users to send and receive MMS including photo messages.  Although a separate app from the existing threaded SMS program preloaded onto the iPhone, the Mobispine software would integrate with the address book, camera and photo browser, adding a "send by MMS option" to each.
Mobispine would distribute the software via the iPhone AppStore, which suggests that Apple would have to give it their blessing before its release.  Whether or not they do depends on their own internal timescale for adding MMS functionality; it seems unlikely that they're not working on an official MMS upgrade, and as such they might consider Mobispine's software as a potential conflict.
Press Release:
Mobispine Delivers First Ever True MMS for iPhone

Mobispine AB (MOBS) the market leader in delivering mobile solutions to operators announced the availability of the world's first true Multimedia Messaging (MMS) for iPhone. Mobispine is now offering a "white label" MMS service for iPhone to global operators. This new and innovative service will increase revenue per user (ARPU) and generate profits for operators.

"Mobispine continues its strong track record of innovation and is proud to unveil the first true MMS service for iPhones. We are confident that global operators will find Mobispine's MMS service for iPhone easy-to-use and profitable," said Dusyant Patel, CEO, Mobispine. "This new offering will help operators generate revenue and differentiate their offerings in a highly competitive market."

The ability to send, receive and forward MMS from any iPhone offers operators the opportunity to drive sales, increase messaging usage and improve subscriber retention. Additionally, by providing a value-added service that end-users find useful, operators can increase customer loyalty and recognition as the brand is displayed on the user's phone. The application will be branded for each operator and distributed via the Apple Appstore.

For the end-user, MMS on iPhone enables easy, convenient and cost-effective communication with colleagues, friends and family. Users can easily create a new MMS and attach a picture from an album on the phone or simply take a new snapshot with the camera. The application is integrated with the iPhone's contacts for easy access. Some of the key features for end-users include the ability to easily send and receive messages from iPhone to any phone with a native and intuitive user interface. The application also offers the ability to capture a picture via the iPhone camera or the option to select from existing photos.  
[via SlashPhone]