iPhone head-computer dock patent tips AR and other possibilities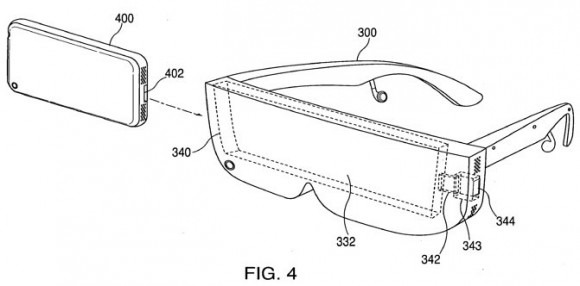 Apple's iPhone gaming controller dock isn't the only new patent application from the company to be published this week; the company is also pushing forward into head-mounted and wearable computer technology.  Like the gaming patent, this latest proposition relies on taking an existing portable device – yes, like an iPhone or iPod touch – and combining it with a task-specific dock.  Here, the dock is a head-mounted display system, with Apple envisaging an iPhone sliding into the side.
Such an arrangement would allow for a higher resolution display than the native portable device, together with potentially adding in extra functionality.  For instance, a front-facing camera for augmented reality apps (or a gap where a camera on the original device could look through), or picture-in-picture abilities.  Although external hardware controls might be present, Apple also describe using a remote control for easier navigation.
The rest of the patent describes the potential for different mounting designs, different materials from which the headset could be made, and possible applications.  The latter includes a voice- and image-recognition system that could spot old acquaintances and flag their identity up, together with overlaying logos and other visual cues – for instance arrows – for GPS directions and the like.
[via Patently Apple]