iPhone Gains Where Android Loses In Q2 Strategy Analytics Report

This week the folks at the analysis group Strategy Analytics have released a report on Wireless Smartphone Strategies which let it be known that while Android still dominates the domestic market, it's certainly slipped over the past year. And where Android has slipped, Apple's own iOS mobile operating system has grown rather rapidly. While Android currently (in the second quarter of 2012) shows a market share of 56.3% of the Smartphone Operating System market in the USA, it had a significantly larger 60.6% share of the market in the second quarter of 2011.
While Android's change over the year ended up being over 4 percent in total, Apple's iOS grew from 23.2% of the market in Q2 of 2011 to 33.2% in Q2 of 2012. That's a 10% increase, and that's massive. BlackBerry OS was the only other operating system large enough for the group to categorize on its own with 10.5% of the market last year and 6.5% of the market this year during the same Q2 period. The rest of the market is just 4%, and just 5.7% last year – that includes Windows Phone, too.
The growth the entire market showed year over year was undeniably giant – but not in the way you'd think. Where the growth year-over-year last year (comparing to the year before that, of course) was a massive 70.1% change in the positive direction, this year's comparison to last is a negative 5.4%. These numbers come from the total number of shipments of units (smartphones) in the United States.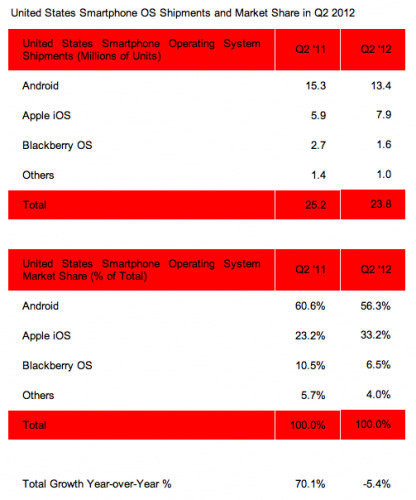 Last year in the second quarter of the year, there were 25.2 million smartphones shipped – and this year that number is just 23.8 million. Of that, 13.4 million belongs to Android, 7.9 million to iOS (on the iPhone exclusively), 1.6 million to BlackBerry OS, and the rest is just 1 million for everyone else. These numbers are not exact, of course, all of them coming from the study done by Strategy Analytics, each to be considered an accurate sampling which shows the greater bulk of the situation with tried and true testing techniques.
Check out more studies by Strategy Analytics in the timeline below, and don't forget to note the changes between the years – lots of mobile!
[via Strategy Analytics]