iPhone "budget" model tipped with plastic and 4-inch Retina display

If you've seen the Samsung GALAXY S 4 and have decided that you're not all about it, feeling more like an iPhone 5 this upcoming summer, you may be in some budget-friendly luck. A next-generation slightly less expensive model of the iPhone 5 has been predicted by the historically surprisingly accurate analyst prediction skills of Ming-Chi Kuo of KGI Securities, complete with 4-inch Retina display. This device has, according to Kuo, been on the books since 2011, before the iPhone 5 was even shown for the first time.
This new model will appeal to the iPhone prospective buyers of all types with a cost that's well below the regular top-tier for the iPhone 5 – or the model that'll be released right alongside the new budget unit. The top-tier unit will likely be named iPhone 5S per the release trend followed by Apple over the past several years with the iPhone 4S and iPhone 3GS. This top-tier release will have many of the same specifications that the iPhone 5 had, with some boosts to place space between it and the iPhone 5 – and the budget iPhone 5 model too.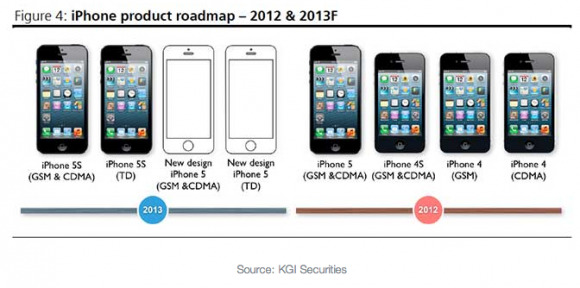 Kuo also mentioned the possibility of a "super-thin plastic casing mixed with glass fiber" for a unique take on the plastic-backed universe out there today. With the new Samsung GALAXY S 4 release continuing to roll out with a plastic similar to the Samsung Galaxy S III, Apple may be keen to capitalize on buyers willingness to purchase smartphones with less-than-metal backs.
While Kuo doesn't predict the actual cost of the device that'll be revealed later this year, he does suggest that this iPhone 5 follow-up will come in a variety of colors. Could it be time to create an iPod touch-like iPhone at last? Rainbow-colors for all!
[via Apple Insider]