Belkin BoostUp Wireless Charging Dock Made For iPhone Xs And New Apple Watch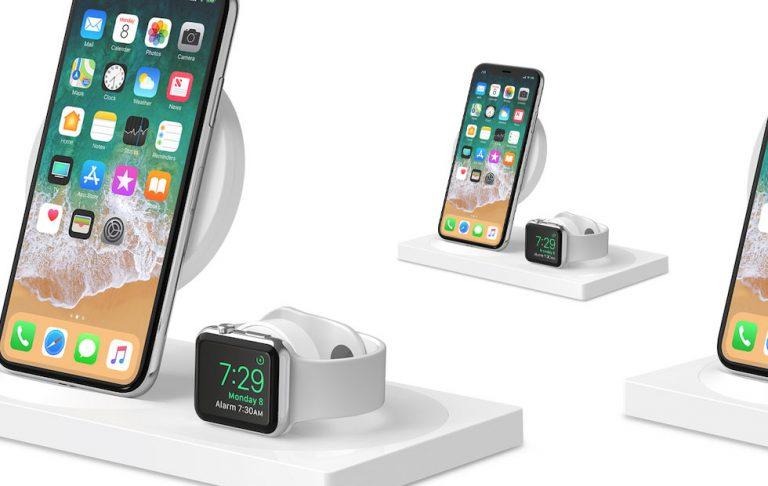 On launch day for the Apple iPhone Xs and Xs Max, Belkin revealed their newest dual-device wireless charger for iPhones and the Apple Watch. The BoostUp Wireless Charging Dock has "optimized wireless charging" up to 7.5W for one iPhone and 5W/1A for Apple Watch. This dual-device charger also has a USB-A port so a third device can also be plugged in at the same time.
With this charger, one wall power port could potentially charge up three devices. One Apple Watch on the Apple Watch stand, one iPhone X or iPhone Xs or iPhone Xs Max, etcetera, and one of whatever other device you have a charging cord for. The third device will be charged with power up to 5W/1A as well – so you're talking smartphone-size device, ideally.
This dock supports Apple Watch's Nightstand mode "for optimal viewing angle" and is able to charge "through most phone cases up to 3mm thick." Obviously charging through said size case will result in a slightly slower charge, but you'll probably not notice the difference.
The Belkin BoostUp Wireless Charging Dock has Qi-certification and MFi-certification. It comes with a Connected Equipment Warranty as well as a 3-year warranty for "added peace of mind." The device comes with a 45W AC adapter right in the box for "instant setup."
This wireless charging dock will be made available in December of this year at Apple Stores (and likely other locations, but Apple Stores are the only stores Belkin's yet announced.) There'll be a black version and a white version, and both versions will cost around $160 USD.
There'll also be a new "Belkin PowerHouse Charging Dock" that'll be available in November of 2018. That version of the dock will work with "all Apple Watch models and iPhone models with lightning connectors." Pricing for that dock has not yet been revealed.