While the magazine we're looking at right now suggests this might be the iPhone 7 Pro, we're leaning a bit more towards the dropping of the number altogether. Like we described in a demonstrative presentation article last week, today we're seeing a device that's far more powerful than the iPhone 6S, coming with features that will exemplify the mobile processing power of Apple's own "A" series. This device also has pogo-pins like the iPad Pro and a space for two camera lenses instead of just one.
It would appear that this version of the iPhone will keep a similar thickness to the iPhone 6s and iPhone 6s Plus. Right around thereabouts. This is regardless of removing the headphone jack in the device and no longer requiring space for more than a single Lightning port.
The back-facing camera array once again appears to be above the rim of the back side of the phone, suggesting that Apple's hardware here won't be significantly smaller than last year's array. With two lenses, we're expecting that Apple will make an especially big deal about how this unit's photo and video abilities bring the device into a new generation of mobile media capture.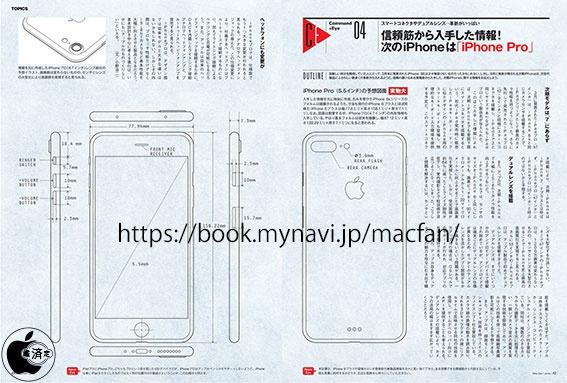 ABOVE: From Mac Fan Magazine – blue page via Macotakara
Apple seems to have the SIM card tray at the side of the device again, along with the standard volume up/down buttons and a switch for orientation lock/muting of sound. There's a power button on the side of the device once again, too.
SEE: (How to) present the iPhone Pro
Gone are the days of the power button sitting on top of the iPhone, that seems to be true.
The back of the device – though it doesn't say so here – will likely be metal if these pogo-pins remain. Just as it is with the iPad Pro, such pins will be much better suited for a slightly better reinforced environment like aluminum.
The edges, therefore, will need to be the location of the device's antenna. All around the edges, somehow, we'd wager.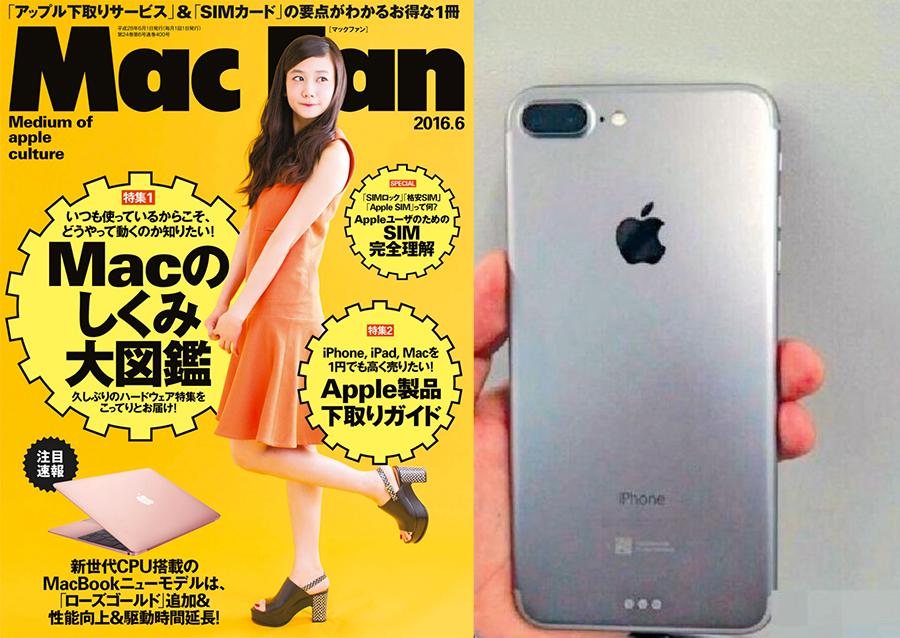 ABOVE: On the left you'll see the Mac Fan magazine this schematic comes from. On the right you'll see an in-hand photo of what appears to be the same device – nearly. This image comes from Bastille Post.
This device appears to have two mic holes at its top and one (or two, one hidden in the speaker grille) at the bottom. There's also another mic hole at the back.
All this means is a top-tier audio-in abilities. Super clear voice coming out the other end.
There's also a 5.5-inch display here, which aligns with previous claims that Apple was ramping up orders of displays this size for the Fall season.
Head to our timeline of iPhone 7 and iPhone Pro stories below to follow this weird train into the future!