iPhone 7 preorder and carrier pricing round-up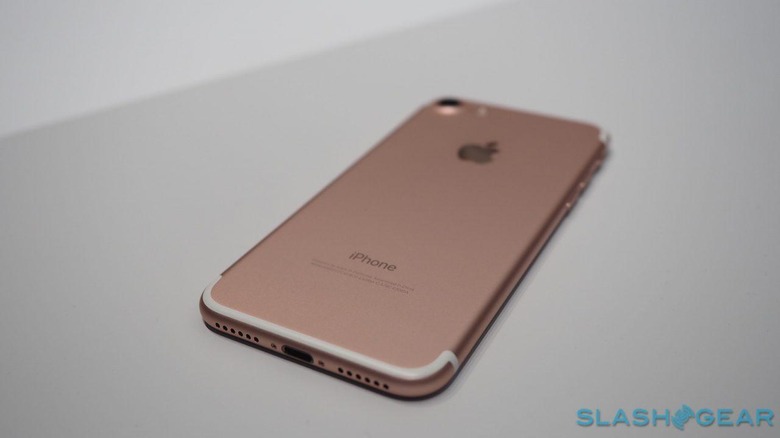 The iPhone 7 and 7 Plus won't be available for pre-order until tomorrow, but in the meantime, we have some pricing details from the big four carriers in the US. While some carriers are being a little tight-lipped on their pricing until the phone actually goes up for pre-order, Apple has published information for all four of them, letting us know how much each one will charge for both the iPhone 7 and 7 Plus, along with all of their storage variants.
While you can get the phone through your carrier, you'll also be able to get the phone directly from Apple. Going that route, you can sign up for Apple's iPhone Upgrade Program, which if you're going for the iPhone 7 will set you back $32.41/mo for 32GB models, $36.58/mo for 128GB models, and $40.75/mo for 256GB models. On the iPhone 7 Plus, you're looking at $37.41/mo for 32GB phones, $41.58/mo for 128GB ones, and finally $45.75/mo for the 256GB phone.
It should be noted that these prices are a little higher than what you would normally pay each month. That's because with Apple's iPhone Upgrade Program, you're getting AppleCare+ coverage and the ability to upgrade to a new iPhone every year.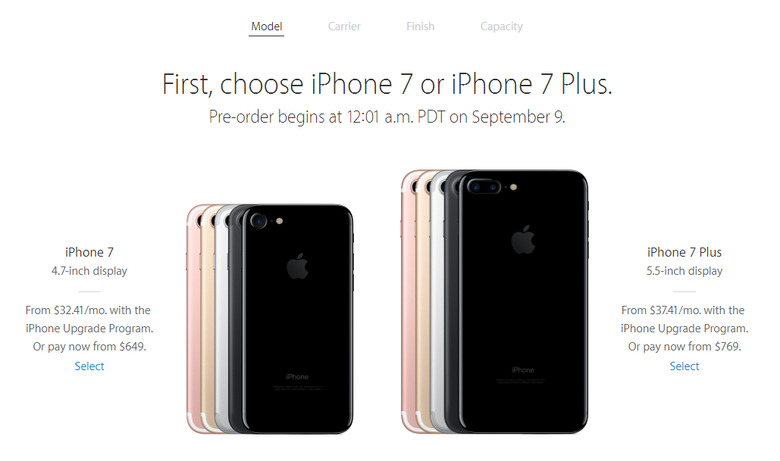 If that program isn't for you, you'll still have the opportunity to purchase the phone through installments, which comes without AppleCare+ and the ability to upgrade every year. Here's the pricing breakdown for installment plans through Apple:
iPhone 7 32GB – $27.04/mo ($649 full retail price)

iPhone 7 128GB – $31.20/mo ($749 full retail price)

iPhone 7 256GB – $35.37/mo ($849 full retail price)

iPhone 7 Plus 32GB – $32.04/mo ($769 full retail price)

iPhone 7 Plus 128GB – $36.20/mo ($869 full retail price)

iPhone 7 Plus 256GB – $40.37/mo ($969 full retail price)
Even though the prices listed above are for Apple, we can expect carrier pricing to be mostly the same. That's because these installments are based on the full retail price of the phones spread out over 24 months, so there isn't much room for fluctuation in the month-to-month price. When carriers officially announce their monthly pricing for the iPhone 7 and 7 Plus, expect it to look a lot like the list above.
While most of the carriers haven't listed specific pricing info yet, AT&T actually has, publishing a table that breaks down pricing for all the different models of iPhone 7 and 7 Plus on its NEXT program. Have a look: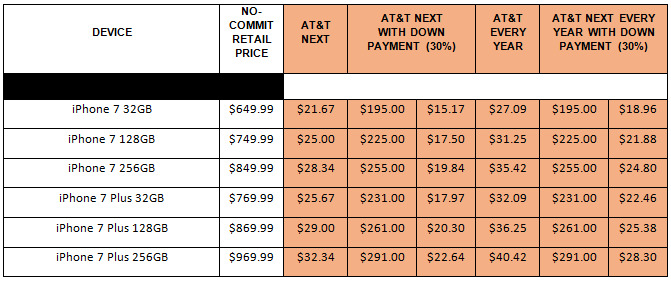 For those who want a purchasing option that's a little more traditional, Apple lists two-year contract pricing for both Verizon and Spint. You're looking at $199, $299, and $399 for the 32GB, 128GB, 256GB iPhone 7 models respectively, while those same storage capacities come in at $319, $419, and $519 for the iPhone 7 Plus.
Interestingly enough, none of the prices above apply to T-Mobile – the only option Apple has for T-Mobile subscribers is to purchase the phone at full retail price. There are no monthly installments, no contracts, and no Apple Upgrade Program prices listed on Apple's website. T-Mobile has, however, published information on what its subscribers can expect when trading in an older iPhone to upgrade to an iPhone 7 or 7 Plus.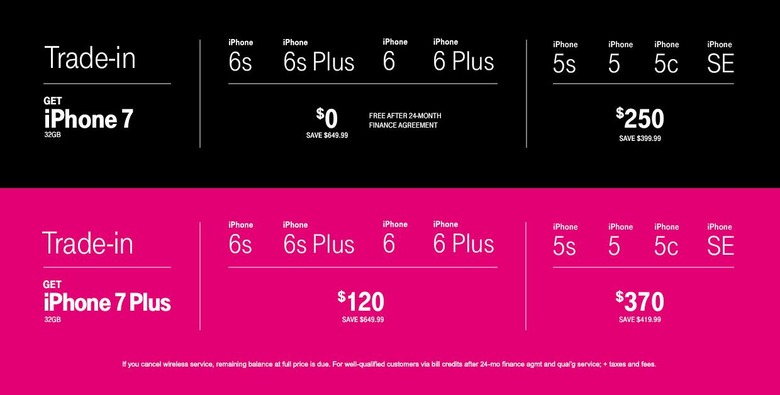 The iPhone 7 and 7 Plus will be available for pre-order tomorrow (carriers even have countdowns showing on their websites), and then they'll become available on September 16. For now, have a look through our iPhone 7 hands-on to see our early impressions of Apple's latest!