iPhone 6s CAD renders reveal thicker anti-bendgate frames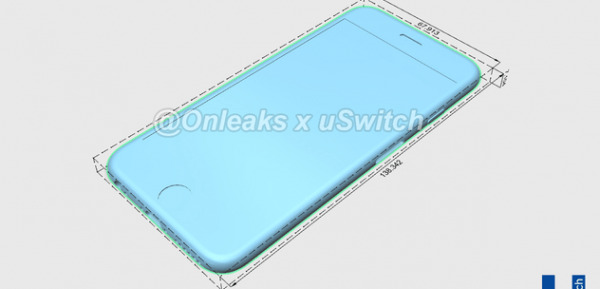 It seems that Apple really took the recent bendgate scandal that rocked its iPhone 6 to heart. A new batch of images, actually more CAD design renders than marketing material, detail both the overall design and dimensions of the iPhone 6s and iPhone 6s Plus due next month. Though not exactly new information, it confirms something we've expected and might have even dreaded. The smartphones will indeed come in slightly thicker shells. But worry not. It's all for the sake of withstanding the mass of your posterior.
Based on the numbers, the iPhone 6s will have a 7.1 mm profile while the larger iPhone 6s Plus will come at 7.3 mm. In comparison, the current gen iPhone 6 and iPhone 6 Plus measure 6.9 mm and 7.1 mm, respectively. 0.2 mm might seem too small to get worked up about, but considering Apple's meticulous attention to detail, precision, and near perfectionism, that might still be 0.2 mm too many.
The theory is that part of the reason for the thicker frame is due to the bending issues, particularly on the iPhone 6 Plus, that went viral over the Internet last year. Of course, it could also be due to the new Touch Force display expected to debut on the smartphones this year.
Sadly, the thicker bodies will do nothing for the glaring issue of a protruding rear camera. In fact, the iPhone 6s Plus is noted to measure 7.8 mm because of the camera, a good 0.5 mm devoted to it. The renders do not indicate the same situation for the iPhone 6s but earlier leaks prove otherwise. It's not all for naught, however, as the cameras are believed to be well improved here. A 12 megapixel sensor capable of handling 4K video recording.
In almost all other aspects, except for a few bits and pieces, the iPhone 6s and 6s Plus are expected to be basically similar to their predecessors. There might be a new color option too, though we'll have to wait next month to find out if there's any truth to these at all.
The iPhone 6s
The iPhone 6s Plus
VIA: uSwitch