iPhone 5S prototype sports new A7 chip, 1GB RAM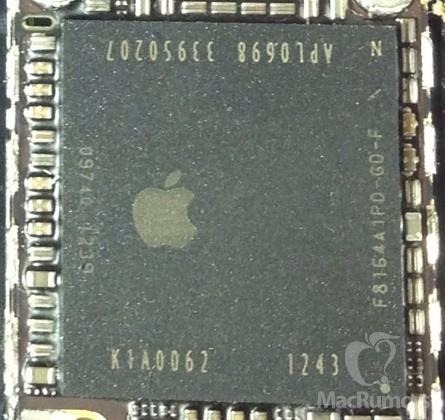 If the anyone out there seeking the next iPhone iteration believed they'd be seeing a complete top-to-bottom change-over to a new generation, today's leaked images should put all suggestions to rest. What we're seeing here is a series of photos of the still-unofficial Apple iPhone 5S. Inside we're seeing a couple of specifications we'd not been solid on before along with another confirmation of past rumors being as close to true as they get before Apple gives the final word.
Inside this Apple machine – the iPhone 5S is what we'll call it from here on in for sake of ease – is an iPhone 5-sized smartphone in general. Along the back you've got a set of two LED flash bulbs where previous to this model we've only seen one, and the overall design of the smartphone's outer hardware looks to be essentially identical outside of that camera arrangement (not exactly, but close).
This device is suggested to be working with a brand new A6 chip inside. This according to MacRumors is the main A-series chip from this next-generation iPhone, bringing with it a new on-chip code-name as well. While the A6 chip from the iPhone 6 worked with code APL0598, and the fourth-generation iPad working with A6X chip had APL5598, this newest machine sports APL0698.
So what'll we call that, A6X2? Something like that.
There's also a date code on this chip that sets the DRAM supporting it to be 1243, that meaning it'll have been made in September of 2012, while the device itself, again according to MacRumors, was assembled in December of 2012. In other words, it's a very early prototype.
The DRAM here appears to be coming in at 1GB, the same as the iPhone 5's delivery, ready to roll with half the RAM requirements of most modern Android device out there in the wild today. Keep that in mind when you give this machine your first test-whirl.
And just for fun, here's another photo of the back casing of the device complete with the infamous "lozenge" as so many ladies and gentlemen read about this weekend. Look like something you're ready to swallow whole?