iPhone 5s And 5c Teardown Confirms Bigger Batteries & Power Button Tweak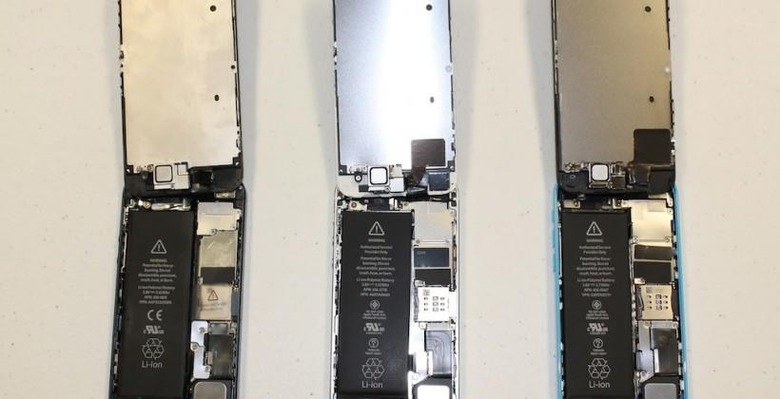 Apple's iPhone 5s and 5c went on sale in Australia a few hours ago, and new owners have wasted no time in cracking open the iOS 7 smartphones to see how they compare in a teardown to the existing iPhone 5. Wielding screwdrivers and spatulas, the iExperts Australia team laid the components bare, including confirming what had been expected about slightly larger batteries in both of the new iPhone versions.
For instance, in the iPhone 5c, Apple has squeezed a 5.73 Whr battery into the plastic casing. The iPhone 5s goes even bigger, up to 5.92 Whr versus the 5.45 Whr of the discontinued iPhone 5.
That goes toward explaining the slight increase in battery life from both versions, though the iPhone 5s also has its processing-duty-sharing M7 chip to help offset load from the main A7 chipset. In our iPhone 5s review, we found that the new version did indeed last longer than the iPhone 5 before it.
Other changes are generally minimal, however, though Apple has reduced the logic board sizes in the newer handsets. That's particularly interesting when you compare the iPhone 5c with the 5, which has broadly the same specifications but has obviously gone through a redesign process all the same.
One welcome improvement is a change to the power switch design. Apple has now apparently added "an extra coating" which, it's hoped, will help avoid the failures some users have encountered.
We'll have to wait a little longer for cost of manufacturing estimates, which usually come in the aftermath of Apple hardware launches. There, the big question will be exactly how much Apple saves by switching to plastic for its mid-range phone.
VIA CNET
[polldaddy poll=7409453]