iPhone 5 to use skinny 4.08-inch display tips analyst

Apple's iPhone 5 is set to have a 4.08-inch display and see a step up in resolution so as to keep the all-important Retina Display branding, an analyst claims sources in the supply chain have confirmed, taller than the existing iPhone 4S. "We expect iPhone 5 to feature a 4.08-inch in-cell IPS panel screen with a display resolution of 1,136 x 640 and 500-nit brightness" KGI's Mingchi Kuo wrote in an investor note this week, Apple Insider reports, described as a compromise between multiple factors.
For instance, a longer iPhone with the same horizontal width of the existing models would preserve single-handed use – something Apple has been keen to stress as an advantage over ever-growing Android devices – while boosting the user-experience through giving more real-estate to graphics. It could still be backward-compatible with earlier iPhone apps, too, letterboxing them in a similar way to the black bars around widescreen movies.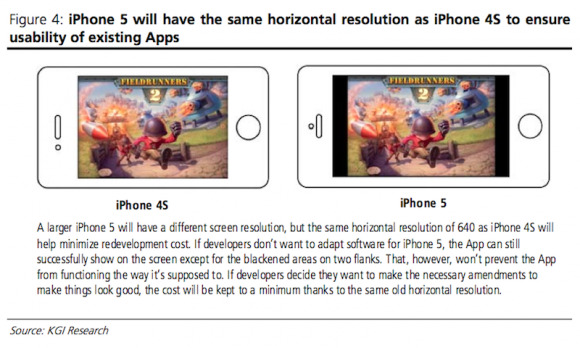 However, the larger form-factor would allow for a significantly bigger battery to be installed, though Kuo doesn't actually expect that to take place. Instead, he predicts a roughly 1,400 mAh pack will be used, allowing for an eventual smartphone that's longer but slimmer than now.
A bigger display has been well-rumored as eager tech addicts wait for the sixth-gen handset, though few have settled on the same display sizes. All of Apple's iPhone and iPod touch models have used the same 3.5-inch size to-date, though resolution has changed along the way.