iPhone 5 ReadyCase "swiss army knife cover" blasts past funding goal

Now that the whole world is addicted to KickStarter-like programs such as Indiegogo, groups creating items such as the rather intense multi-functional ReadyCase for the iPhone 5 and iPhone 4/4S can jump in from a whole different direction. What we're seeing here is a funding effort that had a $15,000 USD goal, has already raised $58,740, and still has 21 days left to go to raise more. The product is a set of cases, one that works for the iPhone 5, the other that works with the iPhone 4/4S, both of them absolutely strangely wonderful.
This set of cases has a headphone clip, camera lens ring, USB drive (removable), kickstand for both portrait and landscape (using the USB drive stick as the stand), and multi-tool. The multi-tool has a standard blade, serrated blade, flat-head screwdriver, bottle opener, and a choice of colors – black or silver! Of course you're going to want to pop the tool off the case when you're heading to the airport – not allowed!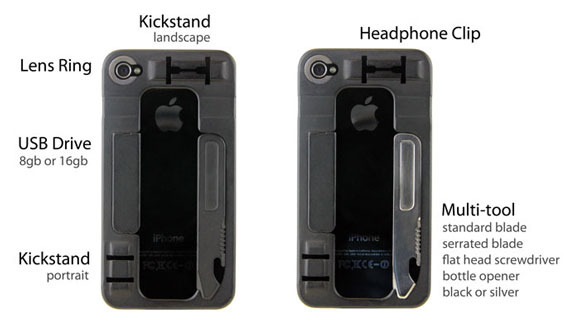 The case fits on your phone like a charm and adds less than 3mm to its surface. The bulk of the case is made of aerospace grade composite materials as well, so you'll have some basic protection for the back and sides of your device. The USB stick comes in two iterations – 8DB or 16GB, and again, fits into the case in several different ways allowing you some on-the-go stand-up action for your phone.
The headphone clip allows you to keep your phones tight to the device when you've wrapped them around the phone, and the integrated lens ring works with a variety of lenses, each of them included in the package. There's a macro lens, a fish-eye lens, and a wide-angle lens too.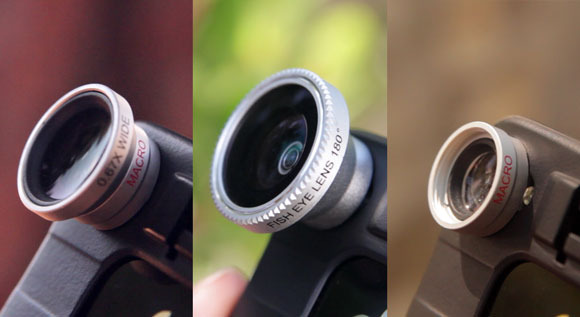 For those of you still wanting to contribute to the Indiegogo campaign, there's good news – if you've got an iPhone 4/4S now and plan to update to the iPhone 5, no worries! You get both an iPhone 4/4S case and an iPhone 5 case in the package together – and the multi-tool and USB stick fit in both! Check it out!