iPhone 5 Packs HSPA+ Says China Unicom But No LTE Mention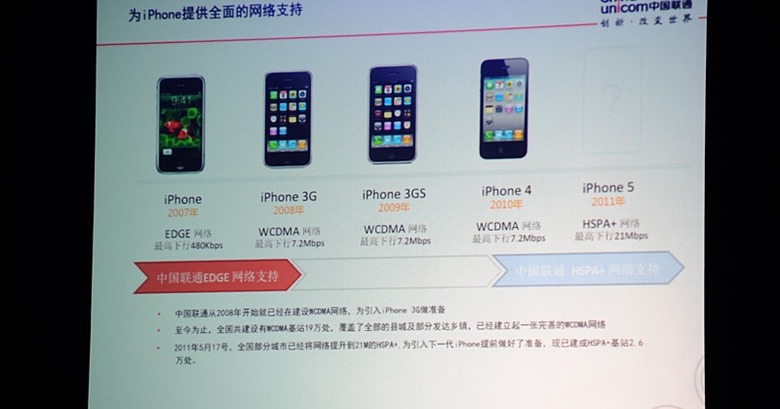 Apple's iPhone 5 will support HSPA+ 4G for up to 21Mbps downloads, according to carrier China Unicom, with the reference to data speeds made at a presentation in China earlier this week. According to China Unicom research VP Huan Wenliang, speaking at Macworld Asia 2011, Impress reports, the fifth-gen iPhone we're expecting to be released on Tuesday, October 4, will support HSPA+ with no mention of LTE.
It's unclear, however, whether this is a limitation of the iPhone 5 or of the China Unicom network itself. According to reports earlier this year, the Chinese carrier is not expected to roll out a commercial LTE network until 2013, instead focusing on 3G and WiFi hotspots to get its subscribers online.
Contrasting rumors have circulated for some time about whether Apple would include LTE support in the new iPhone. The company decided against the high-speed connectivity option when it launched the CDMA iPhone 4 on Verizon, suggesting at the time that the first-gen LTE radio chipsets were too bulky to be acceptable. However, more recently leaks suggested that Apple had delayed the iPhone 5's release so that it could accommodate LTE, leading us to speculate that the Cupertino Town Hall venue for the launch event next week as selected so that the company could host its own 4G network.
We won't know for sure until next week, so join SlashGear on Tuesday, October 4 at 10am PT for the full liveblog at http://live.slashgear.com/!
[via MacRumors]