iPhone 5 On August 16 Suggests Apple Store Job Posting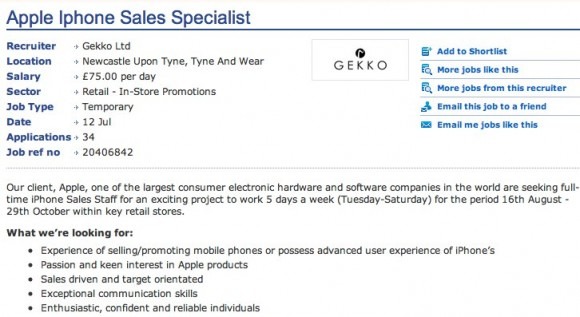 Apple's iPhone 5 could arrive earlier than expected, with new job listings for the company's UK retail stores tipping a release as soon as August 16. According to the listings, Apple is "seeking full-time iPhone Sales Staff for an exciting project to work 5 days a week (Tuesday-Saturday) for the period 16th August – 29th October." Among the responsibilities would be capturing "the hearts and minds of potential customers."
Multiple adverts have been listed, covering locations across the UK. Potential staff would be trained on a four day program in London ahead of the start date, and are expected to have "experience of selling/promoting mobile phones or possess advanced user experience of iPhone's [sic]." Apple is apparently paying £75 ($120) a day to its temporary staff.
Although a new iPhone is expected later this year, current rumors had tipped a release in September rather than August. Speculation has been rife around whether there will be one new device, the iPhone 5, or two, introducing a cheaper version tentatively dubbed the iPhone 4S. According to leaks, the iPhone 5 will introduce a significantly changed aesthetic and a number of new features, including a larger display, dual-core processor and potentially NFC connectivity, along with a higher-resolution, roughly 8-megapixel camera.
However, conflicting leaks have pointed to a more mainstream update, keeping the design of the current iPhone 4 and making more straightforward changes such as the process and camera. Another rumor strand suggests that Apple will be adding 3G to the iPod touch, giving it a data-only cellular connection that could be used for mobile app and media downloads, as well as online gaming.
[via CNET]