This week Apple showed off a brand new dock connector for their iPhone 5, and likely for the rest of their mobile line eventually, called Lightning. This cord uses an "all-digital 8-signal design" with an adaptive interface – works with either side up – and is 80 percent smaller than the previous iPod dock solution. This little beast has "improved durability" over the previous cords Apple has worked with and Apple has shown off an Adapter as well – the adapter here will allow you to work with the old 30-pin dock connector too if you've got those kinds of accessories.
Note that this technology is a brand effort as well as a technology effort. Apple has made it clear that Thunderbolt is a technology that they've branded themselves – so to speak – while Lightning is another brand of theirs here with this cord first and foremost. We're going to see a whole lot more of this technology in the near future from Apple, you can bet!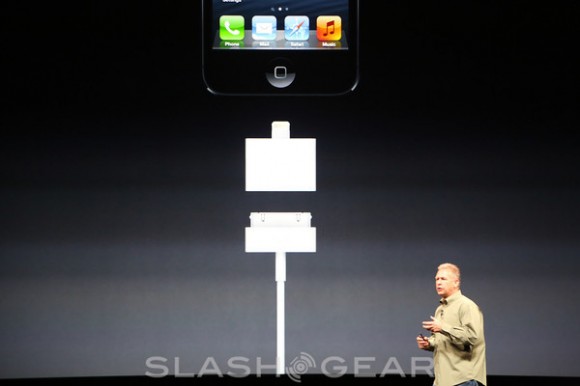 UPDATE: Check out the pricing and release details for the basic cord as well as the converter devices and adapters as well – up in the Apple Store online now!
This iPhone 5 news comes along with a massive bunch of details for the device that have been shown off all day long – and will be shown at great length over the next week as well. Stay tuned to our Apple portal for all the information you need on this iPhone 5 as it hits store shelves later this month – or so we expect! Have a peek at the timeline below for more information on the iPhone 5 and whatever else we see here at the Apple event as it unfolds through the day!