iPhone 5: iPod touch-slim, MBA-styled, 3.7-inch and NFC?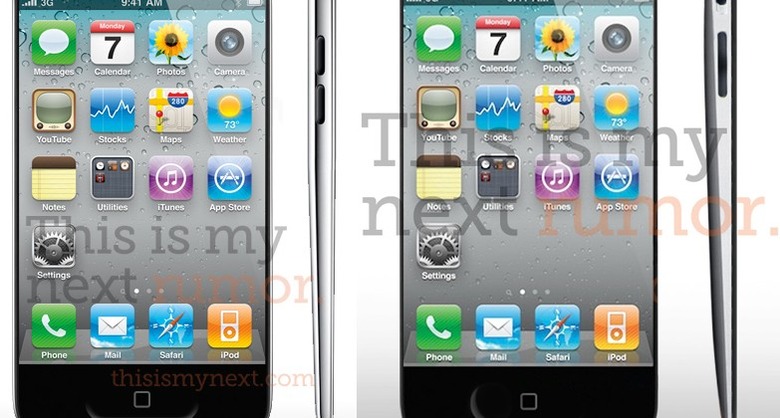 More iPhone 5 whispers this weekend, as speculation about the fifth-generation smartphone – already tipped to be an all-encompassing World Phone with perhaps even support for T-Mobile USA 3G – prompts a new mockup with a distinctly iPod touch flavor to it. Contrary to recent suggestions that the iPhone 5 would be similar in specs and design to the iPhone 4, This is my next is hearing that it will be "more like the iPod touch than the iPhone 4" with a thinner chassis more akin to the MacBook Air in profile.
They put together the mockup on the left – with what they admit is an over-exaggerated taper – and then Corey Daniels put together a more MBA-styled alternative, shown on the right. The home button has been enlarged, and now doubles as a gesture area, while the screen has grown to an expected 3.7-inches – with a 312 ppi pixel density, allowing Apple to continue using its Retina Display branding – with minimal bezel.
That could be the result of new bonded glass technology, minimizing the amount of extraneous space required, and perhaps even allowing Apple to put the earpiece and sensors behind the display itself. It's not the only sensor shift tipped: there's what's marked in leaked (and unshown) diagrams as a "swipe area" on the bottom and/or top of the iPhone 5, which could well be an NFC sensor. Apple is believed to be working hard on NFC wireless payment technologies, though there has been argument over whether the system would show up in the fifth-gen phone.
World Phone support from a GSM/CDMA chip – like the Qualcomm Gobi MDM6600 inside the Verizon iPhone 4, which is currently locked to CDMA mode – also seems a lock-in, especially as it would open up the Chinese market too. In short, rather than a spec-bump, the iPhone 5 could well turn out to be pretty revolutionary.