iPhone 5: iOS 5 training begins but Best Buy leak tips late October launch

Apple's iPhone 5 launch date could have been telegraphed in a number of leaked retailer memos, suggesting late October installations of mysterious "Apple fixture" hardware as well as imminent training for employees. According to a Best Buy message passed to This is my next, store managers have been told to be on-hand at 6AM on Friday, October 21 so that a large "Apple fixture" can be brought in, something that the tipster says happened last year just before the iPhone 4 launch.
Meanwhile, Best Buy Mobile managers apparently have a meeting in their planners for October 10, at which point the tipster says they'll be talking about "upcoming BIG release dates." The iPhone 5 is expected to be one of the phones on the schedule.
Over at Apple's own retail stores, however, training has already begun on iOS 5 and iCloud, 9 to 5 Mac's sources tell them. That process – which this time around is taking place through a new part of the Apple RetailMe application, an in-store training and comms tool – usually only takes place a few weeks before release, leading the site to speculate that late October may well be too far off for Apple's iPhone 5 plans.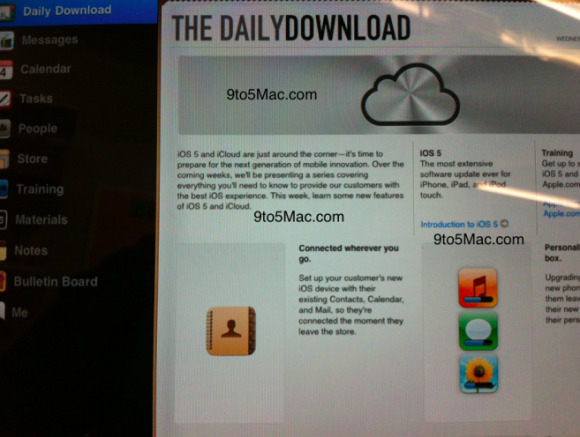 Instead, and with news that the iCloud information spigot has turned to a gush for service staff, they suggest that a late September or early October launch (as has been rumored before) could still be in the pipeline. The handset is tipped to feature a faster, dual-core processor in a newly designed chassis, and go on sale alongside an iPhone 4S targeting the lower end of the market.