iPhone 5 begins shipping from Foxconn factory in China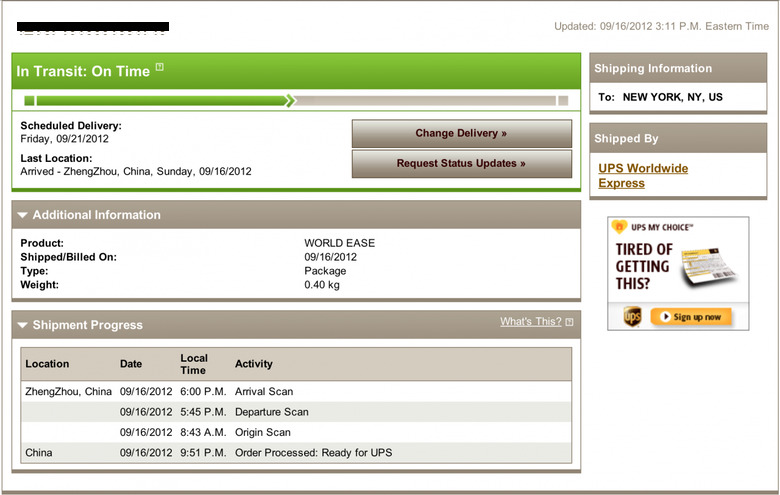 The iPhone 5 won't technically arrive until the end of the week, but some who pre-ordered the new device have already received confirmation that their handset has shipped. A few readers of 9to5Mac have sent in emails showing that their iPhone 5s shipped from Zhengzhou, China yesterday. Infamous Apple supplier Foxconn has a factory not too far from there, so it seems that the company has been hard at work getting Apple's newest iDevice out the door.
Most of the emails indicate that Foxconn is shipping these out via UPS, and almost all of them have an arrival date of September 21, the same day the iPhone 5 is scheduled to launch in a number of regions around the world. Not long after the story was posted, 9to5Mac writer Jake Smith received an email stating that his iPhone 5 was on the way as well. His shipping slip said that the device would be delivered today, but so far there's no word on whether or not that happened, suggesting that it's being held until September 21.
Of course, not everyone can expect to have their iPhone 5 ship so soon. Earlier today we found out that pre-orders for the iPhone 5 blew past 2 million in the first 24 hours, and you can bet that absurd number is still rising very quickly. It stands to reason that even a company as big as Apple will have at least some trouble keeping up with that many pre-orders, so it wouldn't surprise us to see some people getting their iPhone 5s after the handset's official release date.
Still, for those who are pumped up for the arrival of the iPhone 5, seeing that some of them have started shipping has to be exciting. Some analysts are predicting a staggering amount of sales for the iPhone 5, and we won't have to wait very long to find out just how popular Apple's latest is. Are you one of the millions who have pre-ordered the iPhone 5?