iPhone 5 16GB costs $207 to produce according to IHS iSuppli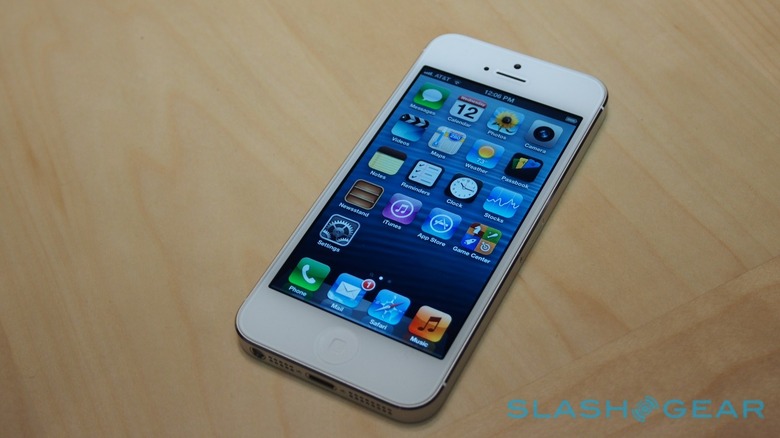 The iPhone 5 features a number of hardware improvements over iPhones of the past, but how much are those improvements costing Apple? That's what IHS iSuppli is determined to find out in its latest teardown, but this one is a little bit different than the teardowns were used to from IHS iSuppli. You see, the folks at IHS iSuppli haven't gotten their hands on an iPhone 5 just yet, so this is a "virtual" teardown based on the specifications Apple has announced, combined with prior knowledge of Apple's suppliers and manufacturing partners.
That means that this teardown is preliminary, and the results could change once IHS iSuppli gets to actually rip apart an iPhone 5. Still, this should do just fine for now, so let's jump into it. IHS iSuppli says that the bill of materials for the base 16GB iPhone 5 model comes in at $199. With the price of manufacturing figured in – $8.00 – the cost to produce a 16GB iPhone 5 is bumped up to $207. The cost to produce a 32GB iPhone 5 (with manufacturing included) is $217 according to IHS iSuppli, while the cost to produce a 64GB iPhone 5 climbs up to $238.
Apple is offering the 16GB iPhone 5 for $199, the 32GB for $299, and the 64GB for $399, but you only get those prices if you sign a two-year contract. If you want to buy an iPhone 5 direct from Apple with no contract, the cost of the device jumps up considerably: $649 for the 16GB model, $749 for the 32GB model, and $849 for the 64GB one. Keep in mind that this is a preliminary teardown, but it gives us a good idea of what Apple's manufacturing costs are nonetheless.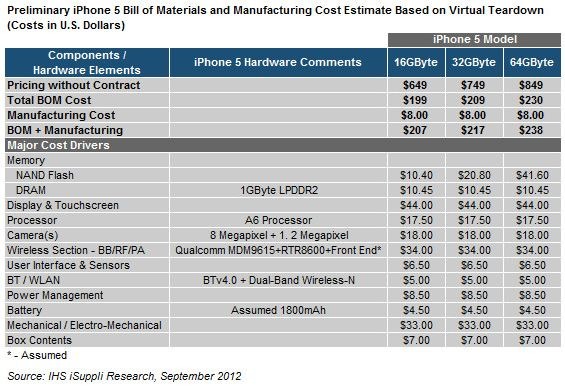 The most expensive part of the iPhone 5 is the in-cell touch screen, which costs Apple $44. That's a little bit more than screens found on past iPhones, but traditionally, the screen has always been the most expensive part of the device. The new A6 processor has Apple paying out $17.50 a pop, a little bit more than the $15 Apple was paying for the A5. If all of this is accurate, then it looks like Apple is making a pretty healthy profit margin on the iPhone 5, but remember that IHS iSuppli's numbers don't take things like marketing and licensing into account. Even when all of that has been added up, though, Apple still stands to make a nice chunk of change on each iPhone 5 sold. Keep it tuned right here to SlashGear, and we'll bring you the results of IHS iSuppli's full teardown once they're made available!