iPhone 4S Speed Test: AT&T Vs. Verizon Vs. Sprint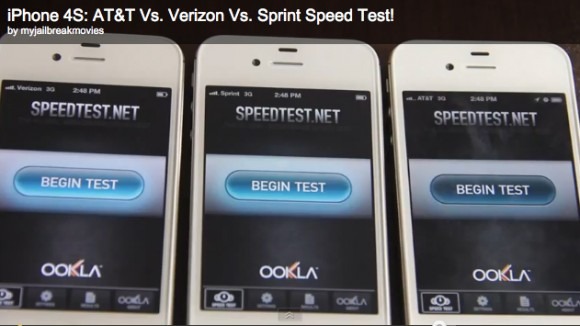 The iPhone 4S hit stores today, now being offered through AT&T, Verizon, and Sprint. The phone is identical on all carriers with each having to differentiate based on other factors like network speed, reliability, customer service, and data plan terms. If you're still undecided about which carrier and network speed is key to your decision, then definitely check out this speed test video of all three iPhone 4S models side-by-side after the cut.
AT&T has been touting that its iPhone 4S will be the fastest because the device supports the carrier's HSPA+ enhanced 3G network, whereas on Verizon or Sprint, you'd be getting just standard 3G speeds. But in the below video, you'll see that Verizon and AT&T are neck to neck with Sprint generally behind.
However, the SpeedTest.net comparison shows AT&T way ahead with a download speed of 0.65Mbps, Verizon with 0.26Mbps, and Sprint with 0.16Mbps. The tester claims that the results were similar no matter how he arranged the positions of the devices.
Although the comparison isn't exactly scientific, it does give you an idea of what you might expect. But speeds will also depend on which part of the country you're located along with other factors. Sprint looks clearly to be the slowest, but they are hoping to offset that with unlimited data plans. And if you're still debating on whether to upgrade, then make sure to check out our full iPhone 4S review and our iOS 5 review.
[via iDownloadBlog]