iPhone 4S sales restricted to reservations only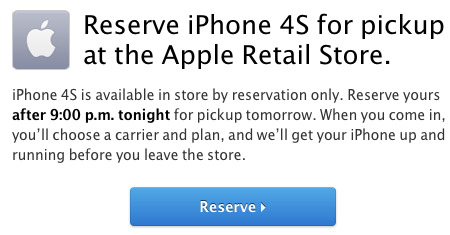 Apple's iPhone 4S sold more than 4 million units over the past weekend and due to the immense demand, the device is now available in stores by reservation only. This bit was revealed by Apple's "How To Buy" web page for the iPhone 4S, where the in-store on-the-spot purchase option has been completely replaced by a reservation requirement that must be made after 9:00pm for pickup the next day.
This new method for picking up the iPhone 4S is required for all purchases in Apple retail stores in the US and Canada. Although it seems that some Apple stores are still allowing walk-in customers to pick up the iPhone 4S, the supplies are going so quickly that the company is now pushing for reservations in order to avoid long lines and disappointed customers.
In other parts of the world, Apple is also limiting walk-in sales of the iPhone 4S. Reservations after 9:00pm are required for both the on-contract as well as the SIM-free iPhone 4S models but only the on-contract version can be obtained in store without a reservation should there be enough stock on hand. This is likely to restrict selling large quantities of the SIM-free version into the gray market.
If you're still debating on whether to upgrade, make sure to check out our full review of the iPhone 4S as well as our review of iOS 5.
[via MacRumors]