iPhone 4S Poll Shows Web Users Torn; Will You Head To The Apple Store Today?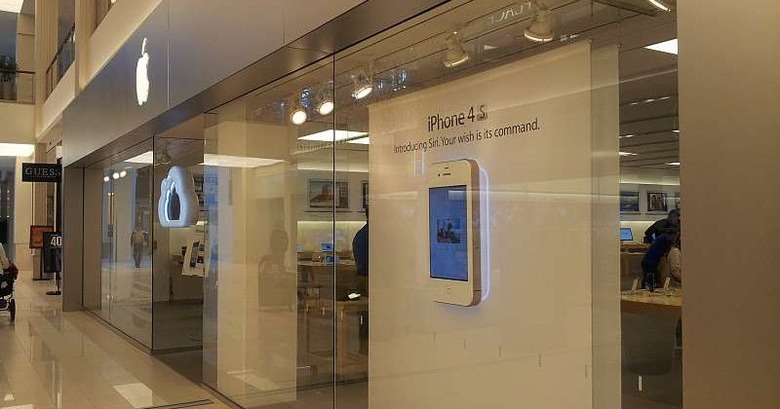 It's iPhone 4S day, everyone, do you know where your children are? According to the poll we've had up since the iPhone 4S was first announced, they're either crying in their room because Apple "dropped the ball" or they're doing one of the following: tapping away at their iPhone 4S or waiting in line to purchase one. Let's have a look at our poll of 19,667 SlashGear users and see what they've decided to think about the iPhone 4S given our options.
The poll we've been running since last week had the question "Will you buy an iPhone 4S?" and included several options, ranging from "Not a chance, Apple has dropped the ball" to "Definitely, it looks amazing!" And wouldn't you know it, those two options ended up being the top choices, with "No way, I'm holding out for the iPhone 5" taking third and "Maybe, I'm going to wait for the first reviews" below that. It's seeing how iOS 5 looks and picking up the less expensive iPhone 4 or 3GS that sit at the bottom, this letting us know that amongst the people taking the poll, price doesn't really seem to be a deciding factor in all of this. On the other hand, it seems as though our poll takers here have mighty opinions about the iPhone 4S, whether they love it or hate it, this deciding whether or not they'll pick it up in the end.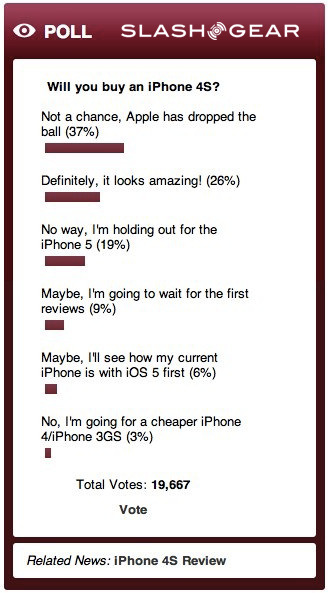 And of course there's the big lines at the stores today. We'll be picking up on reports from around the states (and the world) throughout the day, but here's one for starters: here in Minnesota at the largest mall in the United States, the Apple store had right around 100 people in line before the doors opened, the entirety of the line being served in less than a half hour – the Apple worker at the door told yours truly that no iPhone 4S model had sold out and that he really wasn't sure which carrier was selling the best at the time, each of the three seeming to sell relatively equally.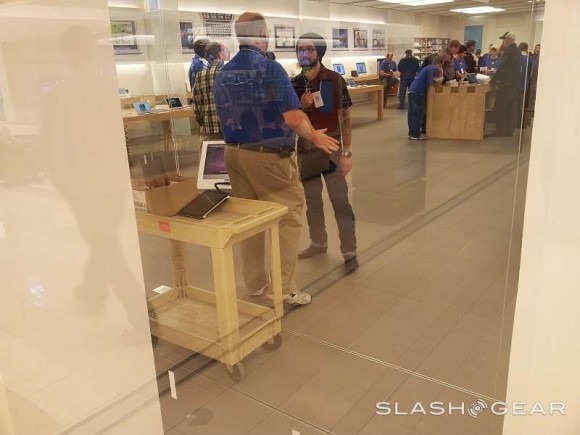 Head to our big review of iOS 5, our big review of the iPhone 4S, and see our massively gigantic review wrap-up from the first wave of top-tier publishers.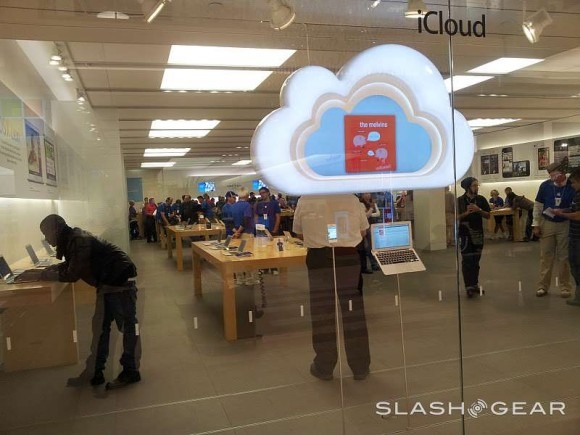 And I ask you again, will you buy the iPhone 4S?