iPhone 4S advert puts focus on Siri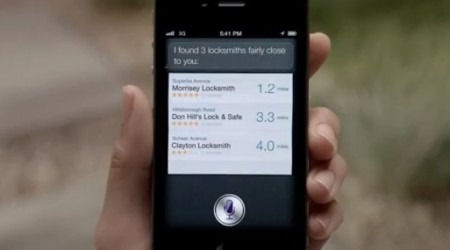 Apple's first TV advert for the iPhone 4S has been revealed, with the focus of the spot being on Siri, the company's digital personal assistant. The thirty second clip – which you can see after the break – cuts between multiple possible uses of Siri, the voice recognition system being used to find local locksmiths, check weather reports and adjust calendar entries, all by naturally-phrased commands.
As you might expect from an Apple commercial, viewers are left to be impressed by Siri's breadth of functionality rather than have each element pointed out to them. One of the key elements Apple made clear at the iPhone 4S' launch earlier this month was that Siri didn't just recognize preset phrases but could fathom out natural speech; that intelligence is shown at several points during the ad spot, such as at the end when a user sadly tells Siri "I'm locked out" and the system recognizes she's likely to want a locksmith.
[aquote]"What does a weasel look like?"[/aquote]
The commercial is only likely to play in the US, given that outside of the country Siri's functionality is more limited. At present, mapping integration and voice-guided local information searches aren't supported in the majority of the countries where the iPhone 4S is on sale; Apple has said that those abilities will begin to follow on come 2012.
Meanwhile, Siri – or, more accurately, Apple's default implementation of the voice command system – has come under fire from security experts. They criticized the company's decision to allow Siri access even when the iPhone 4S is PIN-locked, meaning that unauthorized users could still pick up your phone and send messages, access the calendar and do, well, all of the tasks Apple demonstrates in its advert.
[Thanks to everyone who sent this in!]