iPhone 3GS 8GB incoming to replace out-of-stock 3G 8GB?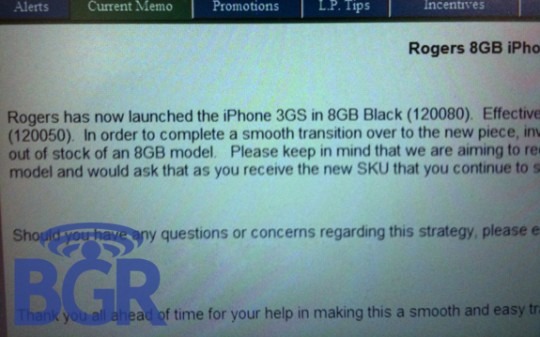 Are Apple preparing to phase out the iPhone 3G 8GB with a replacement iPhone 3GS 8GB?  That's one suggestion, after internal messages from Canadian carrier Rogers Wireless indicated that stores there would soon be receiving 8GB versions of the latest, faster iPhone to replace stock of the older model.
Apple had kept the iPhone 3G 8GB on sale at a new $99 price point after announcing the iPhone 3GS (which began at $199 for the 16GB model and $299 for the 32GB version), bringing iPhone ownership to a new audience of budget-conscious would-be smartphone buyers.  These leaks seemingly confirm speculation that the move was in no small part intended to clear existing stock of the 8GB iPhone 3G, which had proved less popular than its 16GB counterpart.
Still unclear is what price Rogers – or other carriers – may be charging for the new 8GB 3GS mode, though it seems likely that Apple will want to preserve the $99 price-point.  Also unclear is when the new iPhone 3GS 8GB might make its way to the US, Europe and other countries in which the smartphone is officially available.
[via iPhone Buzz]