iPads behind Ohio State Marching Band's Michael Jackson moonwalk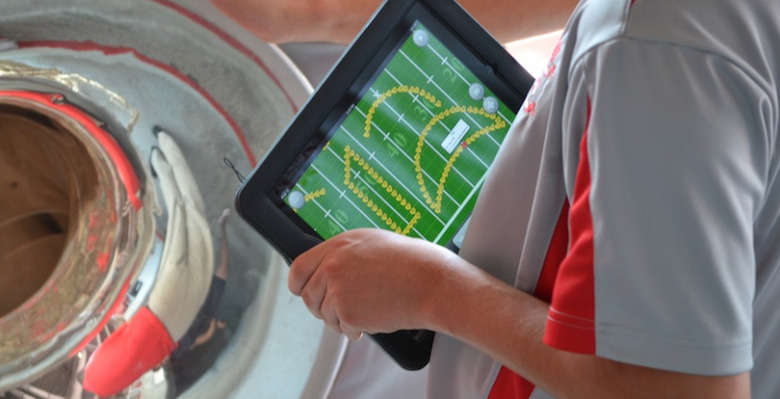 If you've not seen the video of the Ohio State Marching Band taking it to the field with a Michael Jackson tribute march – you're missing out. This week it's become a viral hit, grabbing thousands of hits in its original publication on YouTube and thousands more in each consecutive re-upload. Here a few days after this hit has become an internet sensation of sorts it's become apparent: a collection of iOS apps on a massive amount of iPads is responsible in a big way.
What you're about to see first is the Michael Jackson demo. This video is the one that's finding the greatest ease in penetrating the public with its impressive bits. Here you'll find this "Still Bad, Michael Jackson" halftime show bringing the crew some international fame.
This set of formations was made possible with the OSU DigitalFirst initiative, a program that's turned day-to-day operations for the marching band around completely. Their own release on the subject suggests that their original goal was to reduce waste and improve efficiency throughout the program.
NOTE: Be sure to have a peek at our recent iPad Air review if you've not already. The iPads used by OSU appear to be iPads from generations 4 or earlier, but the displays are the same – so it's all good!
This program was featured by The Chronicle's Wired Campus all the way back in September of this year as the semester began. There details arise: the cost of equipping a 225-member band with iPads would be (and was) right around $120,000 USD. This cost will offset itself over time if the tablets remain in use – in paper costs alone, as $24,000 USD was spent annually by the program for copies and writing.
The students responsible for initiating the program are Ryan Barta and Charlie King. The former is a senior in the OSU business school while the latter is a senior computer-science major. Apps used to convince those responsible for the cash needed to initiate the program consisted of Coaches Eye, forScore, Drillbook Next, and BuckeyeBox.
Coaches Eye works to record a single user's motions, allowing them to then be played back for other users to practice. With forScore the team is able to easily read music, while the app BuckeyeBox is used for cloud storage and sharing. Finally there's Drillbook Next, the app you're seeing used most often in the demonstration video above.
Given the abilities these students have demonstrated in games as of late, how possible do you think it'll be for marching bands across the country to begin implementing similar programs? Has the iPad – and the tablet at large – become an invaluable tool the likes of which will never be dismissed again?