iPad to reign tablet supreme through 2015 predicts Gartner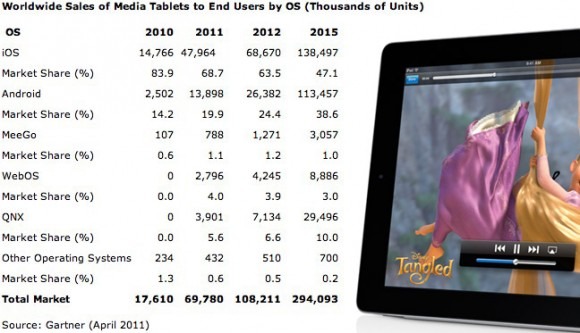 Market researchers Gartner are predicting that, despite the growing competition from Android Honeycomb and other platforms, Apple's iPad will continue to dominate the "media tablet" ecosystem through 2015. The company estimates that Apple will still own over 47-percent of worldwide market share by 2015, with Android holding over 38-percent.
QNX, as on the BlackBerry PlayBook, will hold third place it's suggested, with 10-percent of the market in 2015. Intel's MeeGo and HP's webOS will languish behind, with 1-percent and 3-percent respectively, which Gartner blames on poor adoption of those platforms in smartphones.
Apple's rivals are making the same mistake in taking on the iPad as they did in challenging the iPhone, the analysts suggest, "prioritizing hardware features over applications, services and overall user experience." As for its definition of a "media tablet" that's a touchscreen device between 5- and 15-inches and "whose primary focus is the consumption of media" while running "a lightweight OS such as Android and iOS that is more limited than, or a subset of, the traditional fully featured OS such as Windows."
Press Release:
Gartner Says Apple iOS to Dominate the Media Tablet Market Through 2015, Owning More Than Half of It for the Next Three Years

Despite mounting competition from other operating systems (OSs), Apple's iOS will continue to own the majority of the worldwide media tablet through 2015, according to Gartner, Inc. Due to the success of Apple's iPad, iOS will account for 69 percent of media tablet OSs in 2011, and represent 47 percent of the media tablet market in 2015.

Gartner analysts said Apple iPad did to the tablet PC market what the iPhone did to the smartphone market: re-invented it. A media tablet is not just a different form factor to perform the same tasks that can be done on a PC. Tablets deliver a richer experience around content consumption, thanks to the ecosystem they support. The richer the ecosystem, the stronger the pull for consumers.

"Seeing the response from both consumers and enterprises to the iPad, many vendors are trying to compete by first delivering on hardware and then trying to leverage the platform ecosystem," said Carolina Milanesi, research vice president at Gartner. "Many, however, are making the same mistake that was made in the first response wave to the iPhone, as they are prioritizing hardware features over applications, services and overall user experience. Tablets will be much more dependent on the latter than smartphones have been, and the sooner vendors realize that the better chance they have to compete head-to-head with Apple."

Google's Android OS is forecast to increase its worldwide share of the media tablet market from 20 percent in 2011 to 39 percent in 2015 (see Table 1). Analysts said Google's decision not to open up the Honeycomb, its first OS version dedicated to tablets, to third parties will prevent fragmentation, but it will also slow the price decline and ultimately cap market share.

"Volume will be driven by support from many players, the ecosystem of applications for tablets getting more competitive and some platform flexibility allowing lower price points," said Roberta Cozza, principal analyst at Gartner. "The new licensing model Google has introduced with Honeycomb enables Google to drive more control, allowing only optimal tablet implementations that don't compromise quality of experience. This might mean that prices will drop at a slower pace than what we have seen in the smartphone market."

Table 1

Worldwide Sales of Media Tablets to End Users by OS (Thousands of Units)

OS

2010

2011

2012

2015

iOS

14,766

47,964

68,670

138,497

Market Share (%)

83.9

68.7

63.5

47.1

Android

2,502

13,898

26,382

113,457

Market Share (%)

14.2

19.9

24.4

38.6

MeeGo

107

788

1,271

3,057

Market Share (%)

0.6

1.1

1.2

1.0

WebOS

2,796

4,245

8,886

Market Share (%)

0.0

4.0

3.9

3.0

QNX

3,901

7,134

29,496

Market Share (%)

0.0

5.6

6.6

10.0

Other Operating Systems

234

432

510

700

Market Share (%)

1.3

0.6

0.5

0.2

Total Market

17,610

69,780

108,211

294,093

Source: Gartner (April 2011)

With the migration of Blackberry devices to QNX – the OS used on the Blackberry PlayBook – in 2012, RIM will be able to offer users a consistent experience across its whole product portfolio and create a single developer community. While QNX is a strong platform that delivers on performance, graphics and multitasking features, Gartner analysts said success in the media tablet market will be driven by richness of ecosystem.

"It will take time and significant effort for RIM to attract developers and deliver a compelling ecosystem of applications and services around QNX to position it as a viable alternative to Apple or Android. This will limit RIM's market share growth over the forecast period," Ms. Milanesi said. "It will be mainly organizations that will be interested in RIM's tablets because they either already have RIM's infrastructure deployed or have stringent security requirements."

Gartner analysts said platforms such as MeeGo and WebOS, which currently have a weak presence in the smartphone market, will have a limited appeal unless they can grow that business.

"Smartphone users will want to buy a tablet that runs the same operating system as their smartphone. This is so that they can share applications across devices as well as for the sense of familiarity the user interfaces will bring," Ms. Milanesi said. "Vendors developing on Android should be prepared to see more cross brand ownership as some users might put OS over brand when it comes to the purchasing decision. Improvements on usability and brand recognition are the strongest differentiators they can focus on."

A media tablet is a device based on a touchscreen display (typically with a multitouch interface) whose primary focus is the consumption of media. The devices have screens with a diagonal dimension that is over 5 inches and may include screens that are as large as is practical for handheld use, roughly up to 15 inches. The media tablet runs a lightweight OS such as Android and iOS that is more limited than, or a subset of, the traditional fully featured OS such as Windows.

Gartner's detailed forecast is available in the report "Forecast: Media Tablets by Open Operating System, Worldwide, 2008-2015." The report is available on Gartner's website at http://www.gartner.com/resId=1624614.