iPad takes on the clones in China come September 17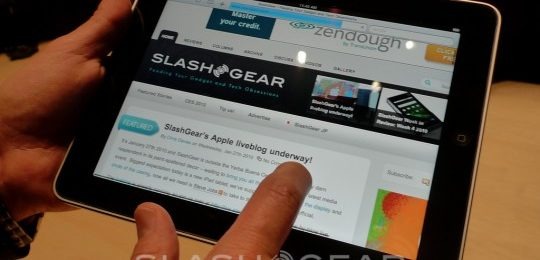 Ah, China – home to many of the beautiful iPad clones we've seen over the past few months.  How exactly will it cope with the real thing?  Apple has announced that the iPad will hit China on September 17th, albeit in WiFi-form only, priced from a hefty 3,988 Chinese yuan ($590) for the 16GB model.
The 32GB and 64GB versions, meanwhile, will come in at 4,788 yuan and 5,588 yuan respectively ($708 and $826).  That's a whole lot more than the roughly $100-200 we've been seeing clone tablets arrive for, though of course those clones lack the Apple cachet.
Press Release:
iPad Wi-Fi Models Available in China on September 17

CUPERTINO, California—September 13, 2010—Apple® today announced that the Wi-Fi models of its magical iPad™ will be available to customers in China from Apple Retail Stores, and select Apple Authorized Resellers, on Friday, September 17 starting at 10:00 a.m.

iPad allows users to connect with their apps and content in a more intimate, intuitive and fun way than ever before. Users can browse the web, read and send email, enjoy and share photos, watch HD videos, listen to music, play games, read ebooks and much more, all using iPad's revolutionary Multi-Touch™ user interface. iPad Wi-Fi models are just 0.5 inches thick and weigh just 1.5 pounds—thinner and lighter than any laptop or netbook—and deliver up to 10 hours of battery life for surfing the web on Wi-Fi, watching videos or listening to music, and up to nine hours of surfing the web.*

Apple Retail Stores will offer a free Personal Setup service to every customer who buys an iPad at the store, helping them customize their new iPad by setting up their email, loading their favorite apps from the App Store℠, and more. Apple Retail Stores in China are also hosting special iPad workshops to help customers learn more about this magical new product.

Pricing & Availability

iPad Wi-Fi models in China will be available for a suggested retail price of CNY3988 for 16GB, CNY4788 for 32GB and CNY5588 for 64GB. iPad will be sold in China through Apple's Retail Stores, and select Apple Authorized Resellers.

iPad will roll out to many more countries later this year and Apple will announce availability and local pricing for these additional countries at a later date.