iPad shines as a touch computer with iOS 4.2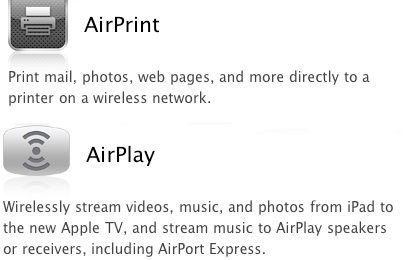 iOS 4.2 was released today for iPad, iPhone and iPod Touch.  iOS 4.2 boasts over 100 new features however I feel AirPrint and AirPlay are among the most significant new features and deserve a deeper analysis.
AirPrint and AirPlay will be nice new additions for the iPhone and iPod Touch however the iPad is where they shine.  Printing had been one of the main early requests after the iPad came out signaling that consumers wanted to do more with their iPads than just surf the web and play games. Apple has provided that feature and gone one better with AirPlay.
AirPrint is integrated most seamlessly right now with the core apps Apple makes where printing makes sense like Safari, the Photos app and the entire iWork suite of apps.  Consumers will be able to print to printers that have updated their drivers to support AirPrint. Given that I do a lot of photo editing and management with my iPad instead of my Macbook Pro this feature is very useful.  I have a Kodak wireless printer and Kodak has not released drivers supporting AirPrint so I wasn't able to test AirPrint. Given the popularity of the iPad I fully assume many printer companies will release updates soon.AirPlay is one the features I have been most excited about.  I've been able to use a final release of iOS 4.2 for iPad and when connected to my Apple TV the experience is impressive.
What surprised me about AirPlay was how easy it was to set up and start streaming photos, music and movies to the TV. On the screen is a new icon that when selected will ask you which screen you want to play your content on simply select the device, in this case Apple TV, and instantly it streams to the TV. You use the touch interface on the iPad to control the content playing on the TV.  Since iOS 4.2 supports multitasking you can start a movie or slideshow on the iPad move it to Apple TV using AirPlay then still use your iPad to browse the web, check email and more. I plan on using AirPlay extensively over the the upcoming Thanksgiving holiday to show off our latest family portraits and summer vacation videos to all our family and friends.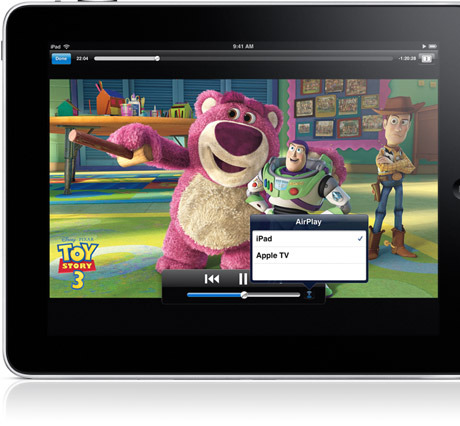 AirPlay works currently only with Apple's applications but let's hope they extend the service to other apps like Netflix, Hulu, ABC Player  and maybe even games in the future.  Audio does however work with any application through AirPlay making it possible to use and control Pandora and stream the audio to another AirPlay supported iDevice.
iOS 4.2 definitely makes the iPad feel like a new iPad.  Those buying the iPad for loved ones for the holiday will enjoy the robust new features.   Even though the iPad is not quite a replacement for your notebook or desktop PC the added ability to print and stream content has taken it a few steps closer.