iPad Pro has 4GB RAM reveals Adobe Photoshop Fix app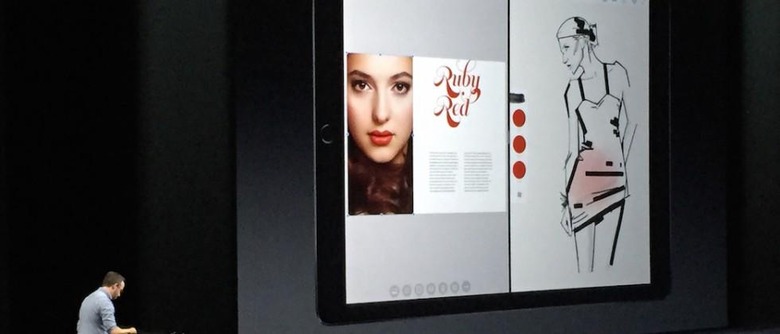 During Apple's big announcement of the iPad Pro yesterday, the company of course highlighted the mega-tablet's A9X processor and 12.9-inch retina display, but other specs were unfortunately glossed over. Fortunately there's good news for anyone considering the device as a serious multi-tasking work horse: it has 4GB of RAM inside, double that of the iPad Air 2. Surprisingly this information comes not from Apple, but from Adobe's press release for their new Photoshop Fix app.
Photoshop Fix is part of Adobe's new mobile Creative Cloud suite, and their press release highlighted some of the technical specs for the iPad Pro and how it enables the app to perform so well. The press release stated:
"iPad Pro is great for creative workflows with a high res 12.9″ touch screen display at 2732 x 2048 pixels, A9X chip, and 4GB RAM."
Apple doesn't like to publish such specs about its devices, leaving things like RAM off their product details page. As this news of the iPad Pro's 4GB of RAM has begun to make the rounds, Apple has probably contacted Adobe and asked them to edit their press release, as the current version has removed any mention of the tablet's RAM.
That's no matter at this point, as it won't be long before the iPad Pro goes through unofficial teardowns, revealing a number of specs not disclosed by Apple. But the Adobe revelation certainly confirms previous rumors that the iPad Pro would be plenty powerful, and now it's clear that the impressive multi-tasking performance during yesterday's presentation was indicative of what to expect in real-world conditions.
VIA G for Games, 9to5Mac
SOURCE Adobe