iPad Mini pricing appears in German retailer's internal listing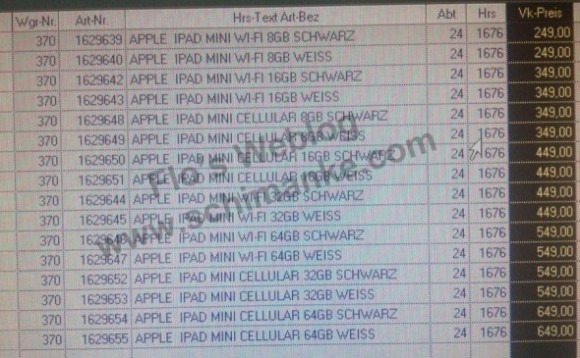 Well this is interesting: we don't even know if the iPad Mini officially exists yet, but pricing for a whole range of iPad Mini variants has popped up in Media Markt's (a German retail chain) internal system. First spotted by schimanke.com (via Mobile Geeks), this list gives us some insight into the pricing structure Apple may go with. Of course, this is all assuming that the iPad Mini is a real device, as so far, we've received nothing in the way of actual confirmation for Apple. In other words, tread carefully, because even though this is exciting, it doesn't mean much until Apple gives official word.
Looking at the leaked listing, we can see that Apple may have quite the collection of iPad Minis planned. Internal storage options start at 8GB and go all the way up to 64GB, with Wi-Fi only and 3G variants of each model. Each one also comes in white and black, so if this listing is legitimate, customers will have a wide range of options to choose from. Have a look at a break down of the pricing below:
8GB Wi-Fi only – €249 ($323)

8GB Wi-Fi and 3G – €349 ($452)

16GB Wi-Fi only – €349 ($452)

16GB Wi-Fi and 3G – €449 ($582)

32GB Wi-Fi only – €449 ($582)

32GB Wi-Fi and 3G – €549 ($711)

64GB Wi-Fi only – €549 ($711)

64GB Wi-Fi and 3G – €649 ($841)
With those prices, it seems that Apple isn't all that concerned with competing with the Google Nexus 7 directly. The 8GB Nexus 7 only costs $199, remember, and Apple's cheapest iPad Mini comes it just north of $300. We're hesitant to say that this is the real deal, mostly because Apple has so far remained silent on the existence of the iPad Mini, but with all of the leaks that have happened in the past few weeks, it's hard not to believe that the iPad Mini is on the way.
The current whispers are telling us that Apple will reveal the iPad Mini at a press event on October 23, but so far the company hasn't sent out any invitations to such an event. If October 23 is indeed the big day, that means we don't have much longer to wait until the iPad Mini is made official. Stay tuned, because we'll have all of the details you need to know right here at SlashGear.